Gay Pride Maspalomas (Gran Canaria) 2018

In 2018 the Gay Pride Maspalomas takes place for the 17th time in the south of Gran Canaria - as usual in the beginning of May...

Maspalomas Gay Pride 2018 - 03rd - 13th May 2018
Subject to change
As in the last year(s), the Maspalomas Gay Pride will be organized by Freedom - Association LGBT again in 2018 ...
Also in 2017 it was again a great event, the Yumbo Center was more than crowded, the popular Hotels and Resorts booked up long before and on the day of the parade the streets in Palya del Ingles fuller as ever before...
Gay resorts (last minute)
Hier klicken, um neues Element einzufügen
Available accommodations

(gay friendly)
Hier klicken, um neues Element einzufügen
The Program 2018
Finally a provisional version of the program has been published - In the following we prepared a summary of the current state for the Gay Pride 2018...
Just as an overview of what the program has to offer in May 2018...
Program Gay Pride Maspalomas 2018
Program 2018 - Subject to change!
The program of the Gay Pride Maspalomas 2018 will certainly offer many highlights - Well-known and almost "traditional" events, but also some completely new events and venues...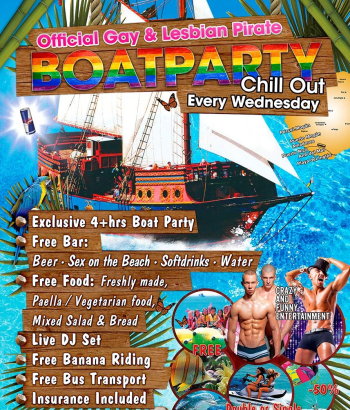 Gay Boat Party - Additional program during Gay Pride 2018

Monday 07th May 2018 (Gay & Lesbian) Price 50 € (with Gay Maspalomas Card 40 €)
Wednesday 09th May 2018 (Gay Men Only) Price 50 € (with Gay Maspalomas Card 40 €)
Friday 11th May 2018 (Gay & Lesbian) Price 50 € (with Gay Maspalomas Card 40 €)

A few memories from 2017 and so also a foretaste for Gay Pride 2018:

Review: Gay Pride Maspalomas 2017 - Photos&Infos
Book your holidays for Gay Pride Maspalomas 2018
Many of the best Gay Resorts in Gran Canaria and the popular accommodations around the Yumbo Center will be booked up very quick again - Also for the upcoming Pride! But do not worry, just contact the team of Gay Maspalomas (e-mail, phone)...

We will be happy to assist you with booking your preferd accommodation and take care of everything (around your booking) so that you will have a perfect Gay Pride 2018 in Gran Canaria...

Whether a Gay Resort, a good Hotel or a inexpensive Apartment - For a quick and personalized service, just contact the team of Gay Maspalomas...

Of course an online booking is possible at any time:
Offers and booking portal Playa del Ingles/Maspalomas
Top-Gay-Resorts in Gran Canaria