A great day on the Atlantic Ocean - The Gay Sunset Cruise in Gran Canaria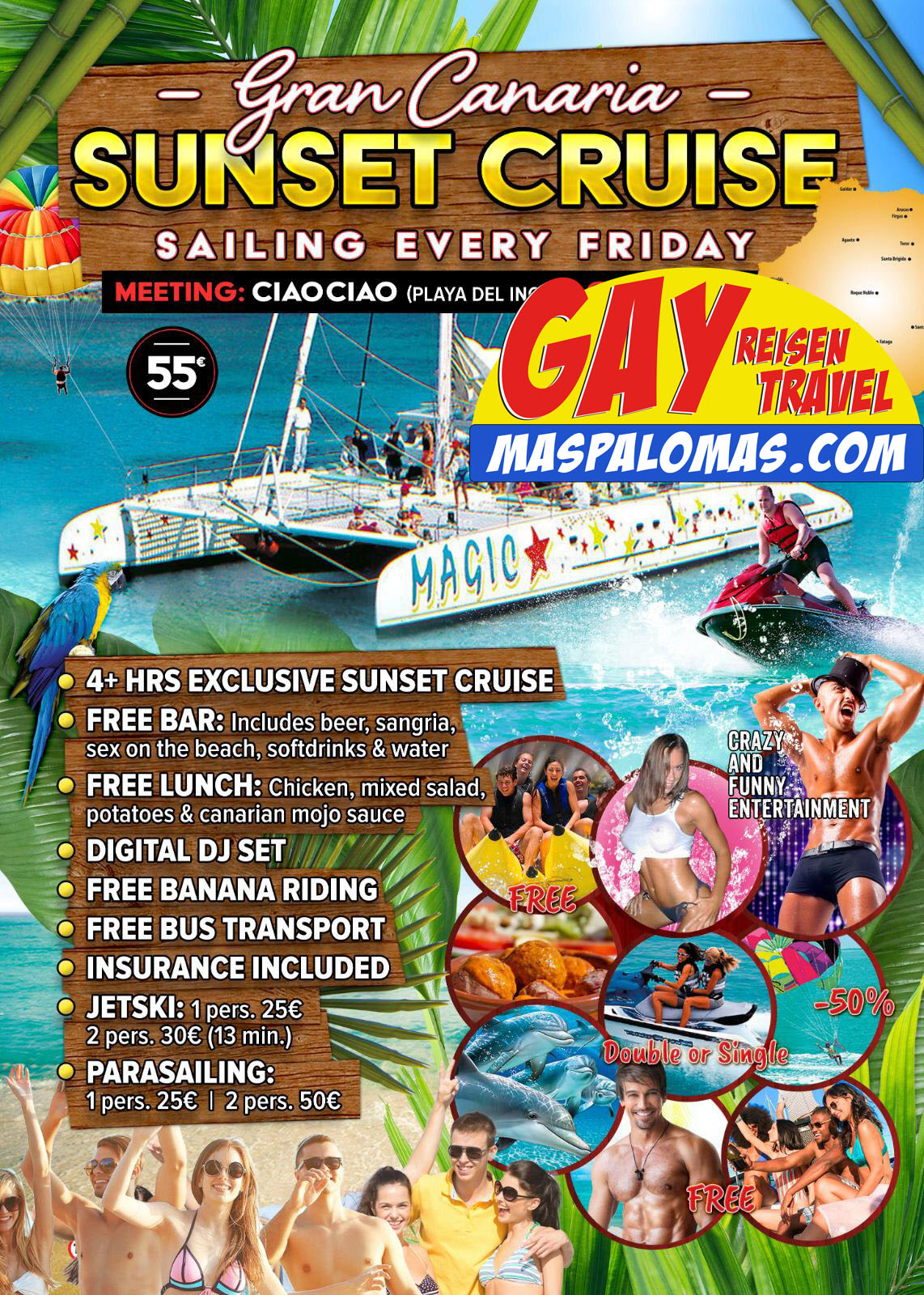 The Gay & Lesbian Boat Trip is being offered every Friday
The great boat, sexy boys and men, a DJ and the sun of Gran Canaria, of course - It's a great and worthwhile trip and at a very good price...

The journey starts in Playa del Ingles, where a bus is waiting to bring you to Puero Rico (Gran Canaria)...
From there, the ship goes along the coast of Gran Canaria and later back to Puerto Rico.

There the bus is waiting again, which will bring you back to Palya del Ingles!
(Futher Information about the meeting point at your ticket)

The total duration on the boat is about four hours.

A very nice and friendly crew, included meals and an "open bar", a DJ which ensures the right sound on board and the fantastic view of the coast of Gran Canaria and the Atlantic Ocean...
The ship also stops at several times to allow you to swim in the Atlantic Ocean...
No more needed for a great afternoon and a perfect Boat Party...


Facts and Overview Gay Boat Trip

When: Every Friday


Exclusively for Gays&Lesbian, so no children and families on board!

Duration: about 4 hours on the boat

Meeting at 14:30 o`clock (Futher Information about meet point at your ticket)

Bus transfer to Puerto Rico - Gran Canaria and back to Playa del Ingles

All Inclusive (shuttle bus, boat trip, drinks, food, entertainment)

...lots of fun and a great view of the coast of Gran Canaria





Price

55 Euro / Person
Deposit and Tickets here via PayPal 15 Euro
Final payment of 40 Euro per person directly at the meeting poin




Booking (via PayPal)

Gay Pride: "Select the date of party"

Friday (outside of Gay Pride): Enter your desired date




Enter your email for for sending your Ticket

The number of tickets takes place in the next step

We will send the tickets for Gay Pride by email with all the information at the end of April

Tickets for a regular Friday party will be sent via email approximately 24 hours after booking





If you have any questions, please call

+49 (0) 1525 395 2828







Important Note: Gay-Maspalomas is not the organizer/operator of the tour.
The operator is solely responsible for the contractual provision of the services and to fulfill their other obligations.
We expressly point out that Gay Maspalomas is not responsible for these services and therefore is not liable for damages arising in the implementation of such services.
In the event that insufficient registrations are made (or in case of bad weather), the tour could be canceled by the organizer!
Only in case of cancellation by the organizer the deposit will be refunded.
In the case of incorrect bookings, such as specifying an incorrect date on which no tour takes place and the deposit is refunded, a processing fee of 5 euros per person will be retained.



Gay Men Only Boat Party - Maspalomas Gay Pride 2023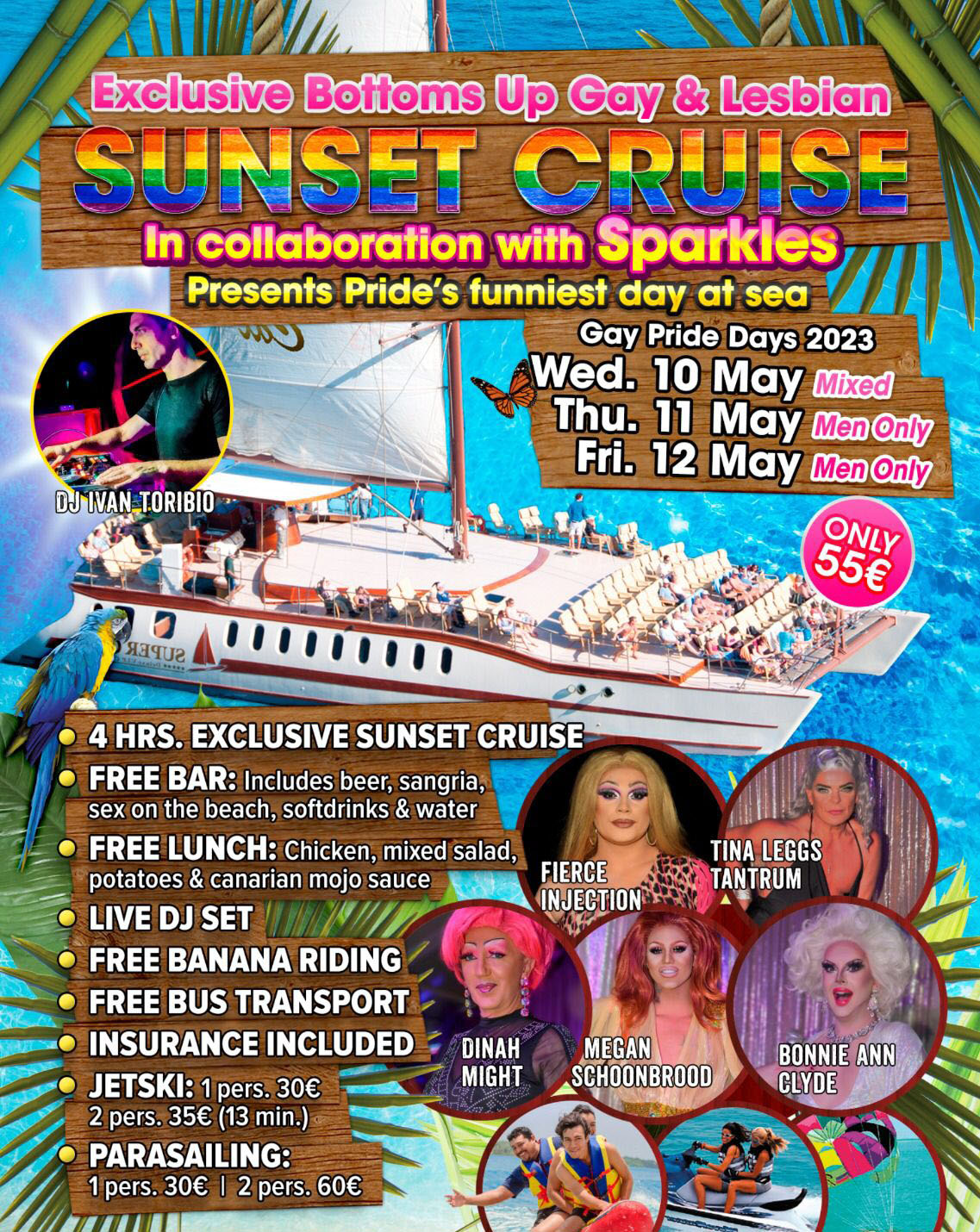 Price

55 Euro / Person
Deposit and Tickets here via PayPal 15 Euro
Final payment of 40 Euro per person directly at the meeting poin




Booking (via PayPal)

Gay Pride: "Select the date of party"

Friday (outside of Gay Pride): Enter your desired date




Enter your email for for sending your Ticket

The number of tickets takes place in the next step

We will send the tickets for Gay Pride by email with all the information at the end of April

Tickets for a regular Friday party will be sent via email approximately 24 hours after booking





If you have any questions, please call

+49 (0) 1525 395 2828