Maspalomas Winter Pride (Gran Canaria) 2023

Winter Pride 2023: 06th - 12th November 2023

Maspalomas (Gran Canaria) has been celebrating Winter Pride in November since 2014...
Meanwhile an integral part of the Gay Events Maspalomas (Gran Canaria).

Thus, there are two Gay Prides in Maspalomas since 2014 - The big Summer Pride in May and the not smaller but different Winter Pride in November...

The "second" Pride in Maspalomas has been an asbolute success since the first edition in 2014 and this will be the same again in 2023...
Professionally organized by "ProGay" - A full program, great and very successful events... With a big Pride Walk, pool parties, live shows,...
The program 2023


>>> To follow <<<
Summary - Program 2022 - Subject to change!
Gay Boat Party for Winter Pride 2023 with "Men Only"

Gay & Lesbian Wednesday 8 November 2023 1:30 p.m
Gay Men Only Thursday 9 November 2023 (1:30 p.m)
Gay Men Only Friday 10 November 2023 (1:30 p.m)

>>> Tickets and further information - Click here <<<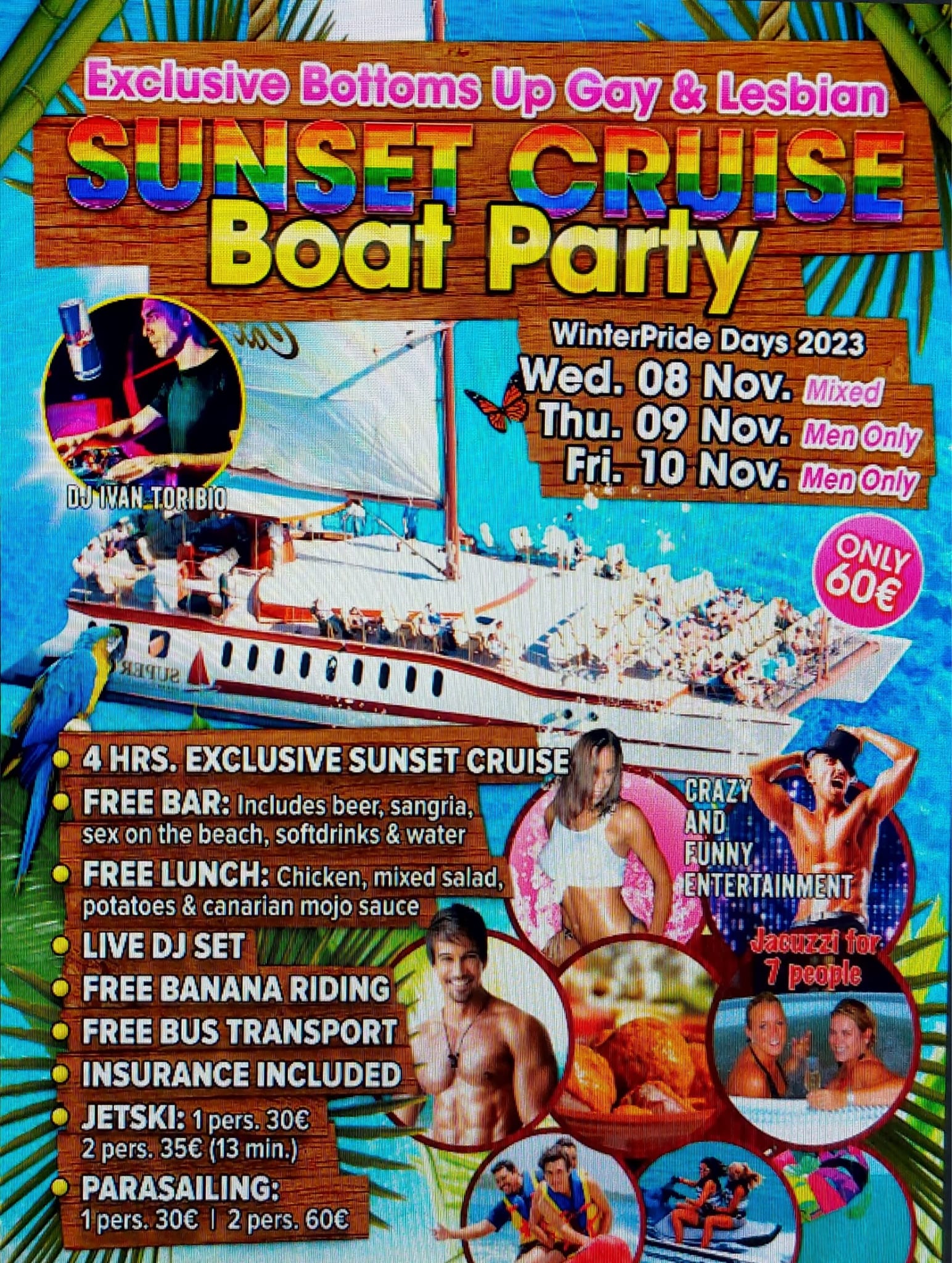 Book your Holidays for Maspalomas Winter Pride 2023
Especially during Winter Pride and around the 11/11, most of the popular Gay Resorts and accommodations around the Yumbo Center will be booked up very quick.

But no problem so far - Just contact the team of Gay Maspalomas (by e-mail or phone - see above) and we are very happy to assist you in finding your perfect Winter Pride accommodation. The team of Gay Maspalomas is looking forward to hearing from you ...

Online Booking and Recommendations:

>>> Offers and Booking Portal Playa del Ingles/Maspalomas (Gran Canaria) <<<