Gay Maspalomas - Who's behind?
Here we would like to take the opportunity to introduce ourselves and say "Hello".

Gay Maspalomas, this is not a big, anonymous company, with call center staff and people who have just heard that Gran Canaria is - THE gay holiday destination in Europe...

Me Sebastian, together with my husband Alex and our small team, we are behind Gay Maspalomas and have known Gran Canaria for a long time and from "our" point of view.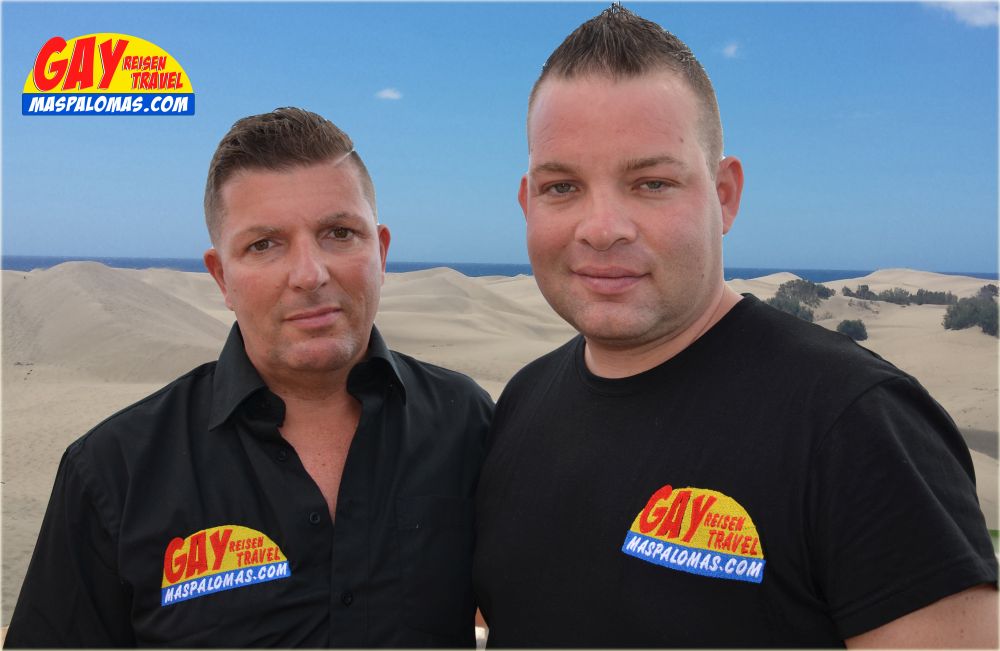 The Island of Eternal Spring, Paradise for retired people, Yumbo Center, The Dunes of Maspalomas, THE Gay Destination in Europe...
There are countless buzz words when talking to someone about Gran Canaria.

Yes, and each of the prejudices is somehow true - but like almost everywhere, only with facts and knowledge (what, when, where, why, ...) you can give good recommendations and advises and can respond to requests not only by knowing a catalog or online description...
We know the many sunny sides of Gran Canaria, but also the few downsides.
We can tell you when (in which period) and in which accommodation (Gay Resort, Hotel, ...) you should spend your holidays
We know which time in Gran Canaria is not suitable for your wishes and ideas
We know the most Resorts/Hotels/Apartments in and around Playa del Ingles/Maspalomas not just from the catalog and photos
We are happy to advise you and it is a great goal of ours that we book a holiday with you according to your wishes and preferences
...



In short:

We know what we are talking about!


Why should I contact Gay Mapalomas?

Service, that is our aspiration and we would like to offer you this.

No matter if you just want to book your holidays online via our booking portal, or if you prefer to get in touch with us personally from the beginning - you are always welcome to contact us...

We look forward to hearing from you, whether you are from the LGBT community or Hetero - Discretion, good personal accessibility and honest advice is our top priority!

Now it's up to you and you just need to contact us, or book your holidays online ...
... and maybe we will soon have the chance to say "Hello" to you personally, on site in Gran Canaria directly, or by phone, or...

Gay Maspalomas - Your personal travel agency - The experts for Gran Canaria but also for many other parts of the world...

Sebastian and his small team of Gay Maspalomas