Welcome Pride 2018 on the Main Stage
Welcome Pride Gran Canaria 2018 - The official start in the Yumbo Center and the Opening Show on the main stage...

Friday, 04th May 2018
The first Live Show on the main stage 2018

- Welcome Gala
With the Welcome Gala - The first Live Show on the main stage in the Yumbo Center 2018 - The Maspalomas Pride finally started on Friday, 04th May 2018.
From Friday, there are now Live Show's every night with different mottos - So the program offers a total of around 10 Live Show's this year...

An overview/summary of the program 2018:
Gay Pride Maspalomas 2018 - The Program

The scheduled program is actually the same every night - Starting with a DJ at 9pm, before then the show program starts at around 10pm.
What everyone will probably wait for is the DJ session after the show (from about midnight) at the stage in the Yumbo Center.

Also on the first show evening, suddenly (after the live show) the whole place was filled up and the people partied.

The Welcome Gala - In short: Local (tourist) entertainment ...
Spanish Dances (Flamenco Fusion Show), a bit Carnival in Rio with a Samba troupe, besides a few vocal performances.

The show was presented by Fruela (spanish artist).

Unfortunately there was no greeting from the organizers or the "Officials" from the town hall during this Opening Gala.
Might be that this will follow during another evening...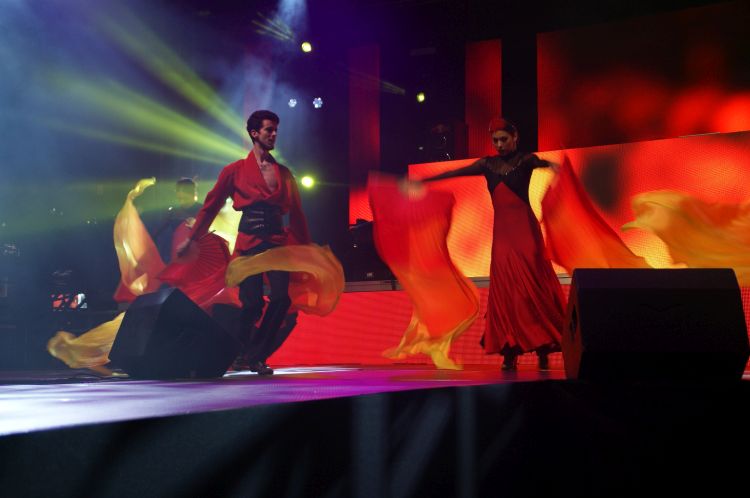 It was the opening show and certainly there will be big shows on the main stage at the Yumbo Center throughout the coming week. Some international known artists are indeed on the program.

In any case, the big (official) Pool Parties 2018 are in a completely new location - La Perla Maspalomas.
That could be pretty cool, let's see we are curious how this will be...

...and now just have a look to some photos and impressions of this first evening...
Back