Gay Pride Maspalomas (Gran Canaria) 2022
The next Gay Pride Maspalomas (20th +1 anniversary) will take place again in the south of Gran Canaria - as usual in the beginning of May...

Maspalomas Gay Pride 2022 - 05th May - 15th May 2022
(Subject to change)
As in previous years, the event will be organized by Freedom - Association LGBT again in 2022...
Review Gay Pride 2019 - Impressions and Photos
(For a known reason there are no photos from 2020 & 2021)
Program 2022

**** **** **** **

>>> Program Gay Pride Maspalomas 2022 <<<
Summary - Program 2019 - Subject to change!

**** **** **** **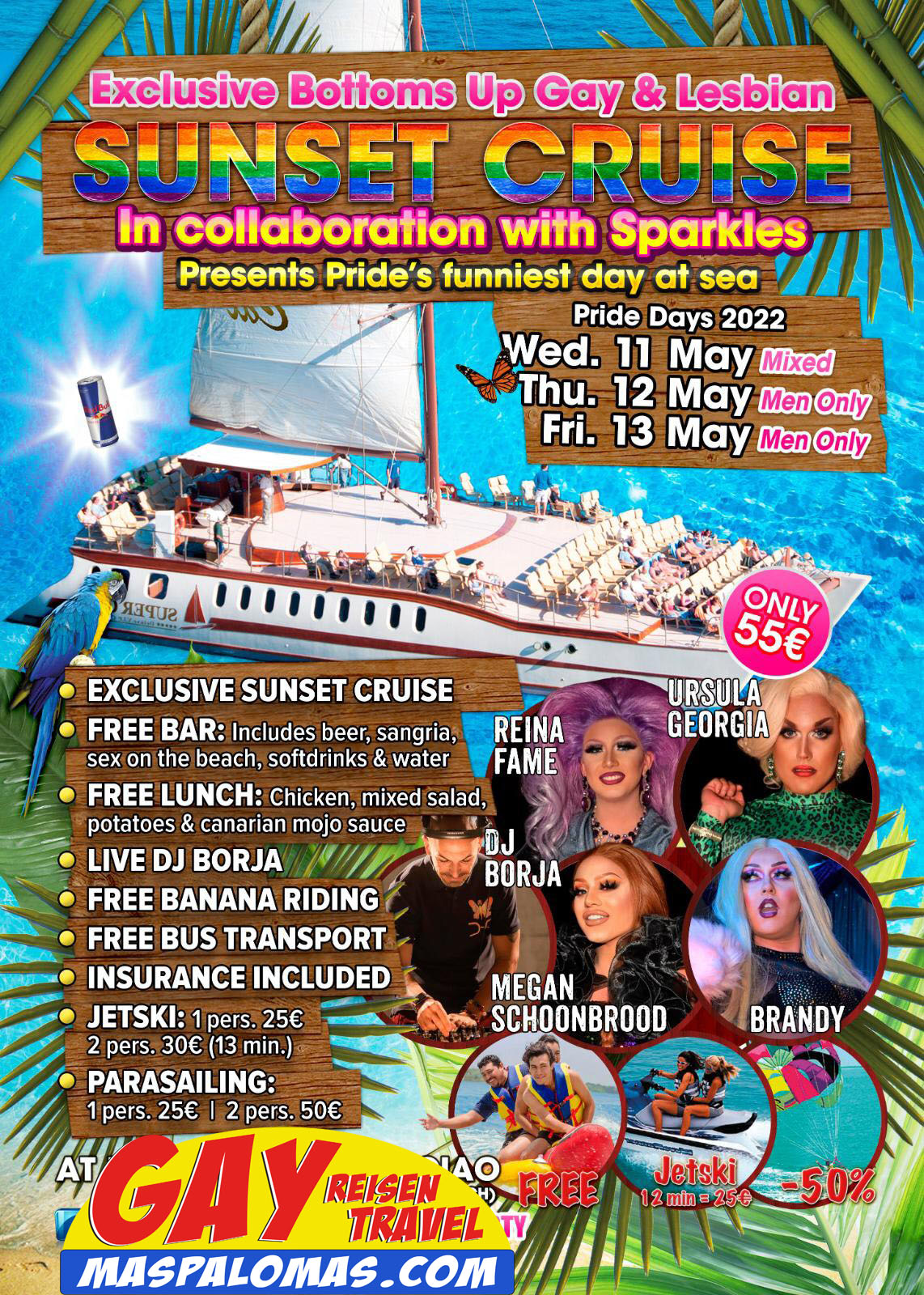 Gay Boat Party - Additional program for Maspalomas Gay Pride 2022

Wednesday: 11.05.2022
Gay & Lesbian


Thursday: 12.05.2022
Men Only


Friday: 13.05.2022
Men Only
>>> Tickets and further information - Click here <<<
Book your holidays for Gay Pride Maspalomas 2022
Many of the best Gay Resorts in Gran Canaria and the popular accommodations around the Yumbo Center will be fully booked very quick again...
Some have also been published the prices for May 2022 and so you can directly book them...

We will be happy to assist you with booking your preferd accommodation and take care of everything (around your booking) so that you will have a perfect Gay Pride 2022 in Gran Canaria...

Whether a Gay Resort, a good Hotel or a inexpensive Apartment - For a quick and personalized service, just contact the team of Gay Maspalomas...

Of course an online booking is possible at any time:
>>> Offers and booking portal Playa del Ingles/Maspalomas <<<
Top-Gay-Resorts in Gran Canaria