Gay Gran Canaria Events 2019 - An overview of the key events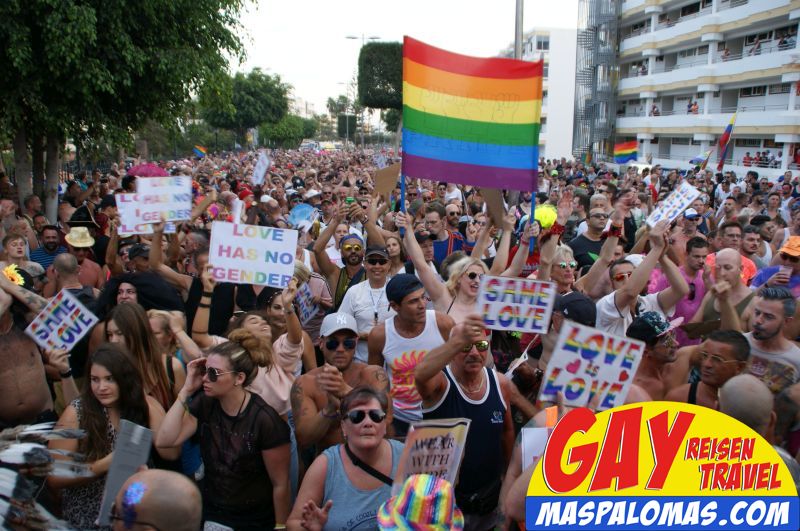 Although Gran Canaria (Maspalomas) is actually worth a visit almost 365 days a year, there are of course the big events spread over the year...
Here we have the important Events in Gran Canaria for the year 2019 at a glance...

This overview should help you to find the best dates for your holidays in Gran Canaria... and to know when it is best to book the holidays as early as possible...

Including dates for Gay Pride Maspalomas 2019, Maspalomas Winter Pride 2019, Karneval Maspalomas 2019, Freedom Gay Festival 2019 and more...
These dates could be interesting and important for you.

Either because you absolutely want to be there or to know which times are best for you ...
...or to plan your holidays in time, because the popular and well-known Resorts and Hotels in Playa del Ingles are very fast booked out especially during these events...

Of course, the biggest (gay-) events in Gran Canaria are the Maspalomas Pride, the Maspalomas Carnival and since 2014 also the Maspalomas Winter Pride...
Then we also have the Freedom Festival or the Maspalomas Fetish Week - The highlight for all fetish friends since many years in October!
And not to forget the Maspalomas Bear Carnival and the Bear Camp, which has become more and more popular with Bears & Friends for several years...

Always, as soon as we get new information, we will update this here!
All dates are carefully researched, but always subject to change...
Gay Events Gran Canaria 2019
Gay Prides Gran Canaria 2019

Gay Pride Maspalomas
02.05.2019 - 12.05.2019

The great Gay Pride in May - One of the largest Prides in Europe and this for many years...

All Infos and Updates: Click here
The Program 2019: Click here


Maspalomas Winter Pride
04.11.2019 - 10.11.2019

2019 Winter Pride will be in Maspalomas for the 6th time - An open-air Pride in November - If not in Gran Canaria, where else in Europe?...
All Infos and Updates: Click here

Gay Pride Las Palmas
tba

The Gay Pride in the island's capital Las Palmas de Gran Canaria - in recent years always in June/July...
Once we get the dates, we will post them here...


Gay Pride in Las Palmas - Dia de Orgullo Gay Las Palmas 2019
Carnival Gran Canaria 2019
Carnival in Maspalomas
14.03.2019 - 24.03.2019

Carnaval International de Maspalomas - La Luna / MaspaMoon

The big carnival in and around the Yumbo Center, with the carnival parade through
the streets of Playa del Ingles...

The program and updates: to follow


Carnival in Las Palmas
15.02.2019 - 10.03.2019

Probably the best events in 2019 will be again the great
Drag Queen Gala - tba
and the
Carnival Parade - Probably 09.03.2019

All info, the program and updates: Click here

Bear Carnival Maspalomas
30.03.2019 - 07.04.2019

The event for bears and their admirers...
23. - 25. August 2019 - Bear Camp in the mountains
Gay Sommer Events 2019

Dunas Festival 2019

The Dunas Festival has already been canceled in 2018 and there is no information for 2019 (current status)...


Maspalomas Summer Fiesta
August 2019

Summer Fiesta will be in Maspalomas for the 2nd time - A Gay summer party in August...
All Infos and Updates: to follow
Freedom Gay Festival 2019
02.10.2019 - 06.10.2019

It will then be the 4th edition of the Gay Festival ... and again in October...
"Freedom Gay Festival - The summer does not end in September"


Further Gay Events 2019

Maspalomas Fetish Week 2019
04.10.2019 - 13.10.2019

For many years a fetish week in and around the Yumbo Center, with a full program, many events,... A "must visit" for all fetish friends...

The Program and Updates: Click here


All dates are carefully researched, but always subject to change...
**** **** **** ****
Beside this, we also want to mention the Semana Santa 2019.
The Semana Santa is an important event in the Spanish travel calendar.

Not a gay event at all in Gran Canaria, but nevertheless during this period the accommodations in the south of the island are nearly fully booked.
Therefore, these dates might be important for your planning as well....

Semana Santa 2019: 14th April - 20th April 2019

Also the begin of the German Carnival (11th November- especially on the Gay Beach in Maspalomas at Kiosk No. 7) is every year a popular highlight in Gran Canaria... And this date now also includes the Winter Pride, which will make the south of Gran Canaria even more crowded.



Book your Holidays in Gran Canaria

As every year, so in 2019, especially during these events, it will be very crowded again in Playa del Ingles and Maspalomas.
And so the most popular Gay Resorts and accommodations around the Yumbo Center will be booked up very early!

Most of the accommodations have already published the prices for 2019, so there is nothing against an early booking...
If something is not available online, just contact the team of Gay-Maspalomas - Mostly there is a good solution or alternative...

The team of Gay Maspalomas is looking forward to hearing from you...
Offers and Booking Portal Playa del Ingles/Maspalomas (Gran Canaria)


Gay Maspalomas - Your personal travel service - The specialist for Gran Canaria...
The Top-Gay-Resorts in Gran Canaria
Back