Winter Pride Dream Night (Main Stage)
The final show in the Yumbo Center - The Three Degrees (USA) and Ruth Lorenzo (Spain) live on stage...
Saturday, 14th November 2015
The final Show on the main stage in the Yumbo Center
The Winter Pride 2015 - Following the launch last year, this was thus the second edition.

And the great success of 2014 was continued - A full program for 7 days, live stage shows, the first Pride Walk on the 11/11, the Maspalomas Winter Pride became even bigger and adult.

On Saturday afternoon the famous T-Dance of summer pride took place - Now for the first time also during the Winter Pride.
As always in the absolutely great location, the Aqua Ocean Club in Meloneras directly in front of the sea.

In the evening, it was time for the the last Live Stage Show 2015 - Winter Pride Dreamnight

Of course, overshadowed and dominated by the terrible attack of Friday night in Paris.
And there was also time to remember in the Yumbo Center - Nevertheless, it was also pointed out that the Winter Pride must go on.

Because with the Winter Pride, we have set a sign for the second time in 2015 - a sign of respect, freedom, equality, peace, love,... and this must be, especially now, showed to the world.

The commemorating on the last night in Paris started with a video, followed by a minute of silence - and it was so quiet throughout the Yumbo Center, that you could have heard a pin dropped.

Give Peace a chance...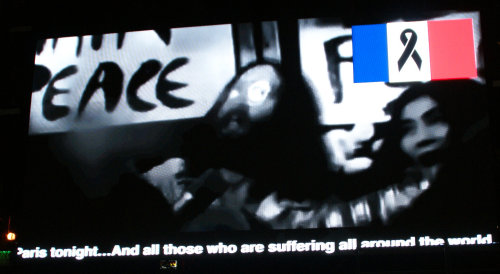 But we all also celebrated - Winter Pride Dreamnight.

After the beginning with a Flamenco show and span. Dances, the greetings of the municipality of San Bartolomé de Tirajana followed. (Maspalomas belongs to the municipality of San Bartolomé de Tirajana...)

The long first part of the stage show was rather slow and quiet - but with great voices.
Among others with a Shirley Bassey Tribute and the hit I am what I am, a great performance of Whitney Houston's I Will Always Love You, and much more...

There where also several performances of the winners of various Drag Queen competitions in Gran Canaria.

Of course, the highlights of the Saturday night show were The Three Degrees from the USA with When Will I see you again and Ruth Lorenzo (X Factor, Euro Vision Song Contest 2014 for Spain).

However, this took place at the very end of the long show on stage in the Yumbo Center.

Shortly after 1am the show ended with a short fireworks - On Sunday, the last event in the Yumbo Center took place.
A Dance session to say Goodbye to Winter Pride 2015...

A great week is now behind us, with many big and some smaller moments, a successful Winter Pride Maspalomas 2015 and with many photos and impressions.

Shortly we will also post a "Best of 2015", with the best photos of the second Winter Pride in Gran Canaria...
Back