To ACES with Love (Main Stage)
The charity gala for ACES - Finals of Mr. Gay Gran Canaria 2015...
Thursday, 14th May 2015
Die Charity Show für ACES - Finale Mr Gay Gran Canaria 2015
ACES - Amigos contra el Sida, the local HIV charity in Gran Canaria.
The traditional Gala on the main stage during Gay Pride - a charity show to raise funds for ACES.

Also this year, candles were sold (2 € each) - Donations for ACES.
At the end of the show, there was again the large red ribbon in the form of many, red candles...
ACES - Amigos contra el Sida

The Yumbo Centre and GLAY support ACES not only during Gay Pride Week, but throughout the year.

At many bars are donation boxes and of course, on the World AIDS Day money is being collected for ACES.
Last December, a total of around 2.500 € - Money that helps to help.

The Charity Night is a very important evening for ACES, which helps to collect donations - Only with this money, the assistance and help can be offered in the future!
A rather quiet show on the main stage, which began a little sluggish and also the audience was mostly quiet.
When you refer to the applause and mood of the audience, only "Boy George" (Experience) and Eva la Diva managed to wake up the audience properly...

Yet, all in all a nice and especially important Charity Show, with some great performances and with over 4 hours...
Mr. Gay Gran Canaria 2015
During the Men's Pool Party, there was only the (pre-) selection for the Mr. Gay Gran Canaria 2015 comeptition!
This evening all participants were asked to present themselves again to the jury - in fact, only 9 participants came to the stage.

In three rounds they had the chance to convince the jury - from casual to swimwear.
And indeed, it was very nice to look at...

And the winner 2015 is
First placed and thus Mr. Gay Gran Canaria 2015 - Ari 45 years old (Cyprus)
Second and third placed - Duva (Columbia) und Dustin (Germany)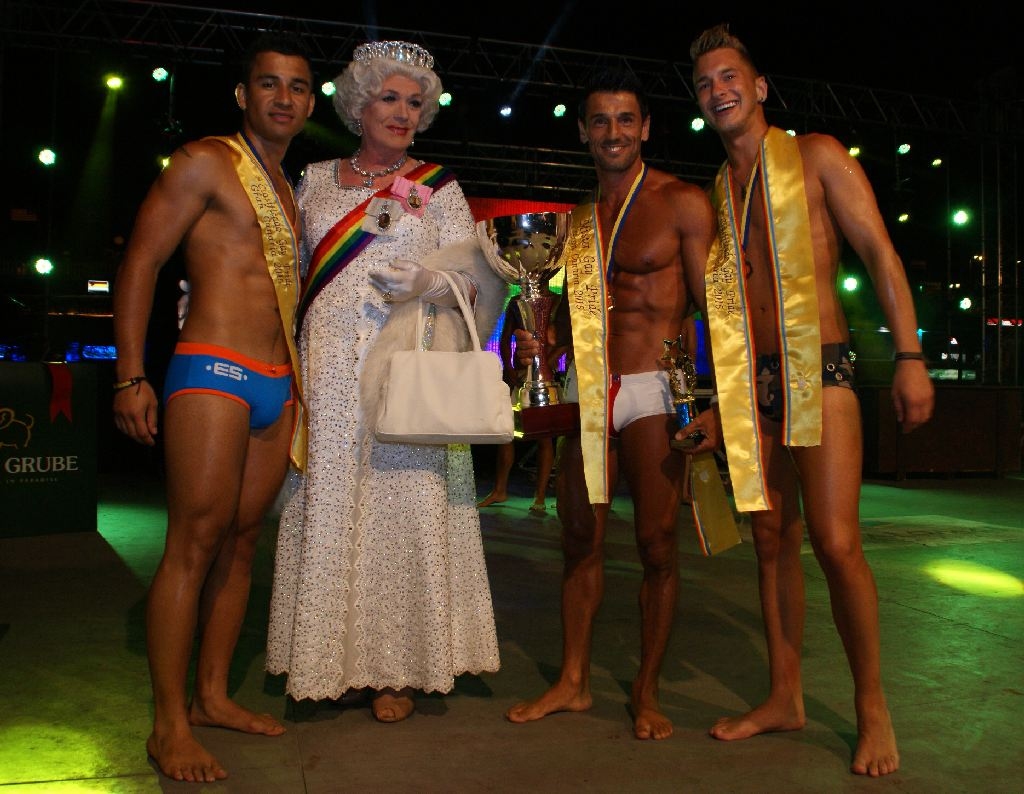 Thanks also to the main sponsor of this event - ES Collection!

Highlights on Friday, 15th May 2015:
1pm - 7pm: Circuit Girlies Pool Party (Axel Beach Maspalomas)
1pm - 8pm: T-Dance at Aqua Ocean Club Meloneras
Around 7pm: High Heel Race at the Yumbo Center
Starting at 9pm: The Drag Gala Show on the main stage

And again, we want to point out our special thanks to the Pride Dancers (Esensual Dance Company) - They are always present, with fun and perseverance!
Back