The Opening
Welcome Pride Gran Canaria 2015 - The Opening Pool Party&Opening Gala on the main stage...
Saturday, 09th May 2015
The Opening 2015 - Welcome Pool Party and the first Show on the main stage

Welcome Maspalomas Pride 2015... This year over 9 full days...
With a Pool Party at Hotel AxelBeach Maspalomas, this year's Pride finally started today on Saturday, 09th May 2015.

The pool party in the afternoon was not too busy, but it was only the prelude to many and certainly again great pool parties in 2015.

The Yumbo Center however was well filled at the beginning of the first show at around 9:30 pm - Just to mention, the main stage is really smaller comparing it to previous years.

But this does certainly not exclude many Big Show's...

After a rather short greeting from the Mayor of San Bartolme de Tirajana/Maspalomas, the Gran Canaria Pride 2015 was finally opened...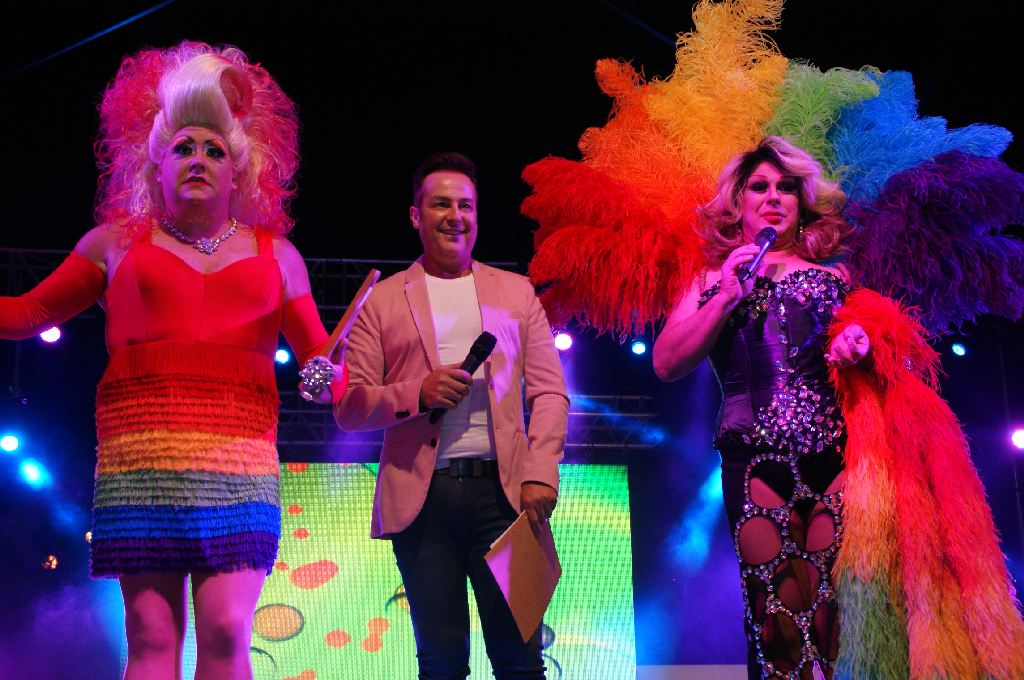 The 3 hosts of the Opening Gala - without the Mayor
Fiesta Latino - Viva España
The motto of the opening gala - And now, a subjective opinion, it was only the motto...
Viva España - Flamenco, Samba, Ricky Martin,... No, not really.

But all the artists on stage were from Spain - so therefore probably Fiesta Latino.

It was the opening show and certainly, there will be great shows on the main stage in the Yumbo Center over the entire next week.

This is definitely not an critique of today's artists who presented good performances, perhaps we just gone off with another expectation for the opening show. (Fiesta Latino)...

In addition, the first competition in 2015 took place - Miss Beautiful Gay 2015...

In any case, the Yumbo center was well filled, the audience celebrated and the Pride 2015 has finally started...

And that is planned for tomorrow (10.05.2015)
1pm - 7pm: Esensual Dancers men only Boat Trip
1pm - 7pm: Lazy Days Pool Party (AxelBeach Maspalomas)
noon - 6pm: Wet&Hairy Pool Party and BBQ - Tropical la Zona
from 9pm at the Yumbo Center: Sunday Evening Cinema & Dancesession

...and now have fun with the first photos in 2015...
Back