Supercat Love Boat (men only)
...a great day on the Atlantic Ocean - sun, sea and a great catamaran...
Monday, 19th May 2014
A great day on the Atlantic Ocean
The first of many Boat Trips during the Pride week in Gran Canaria - Supercat Love Boat (men only)
A great catamaran (up to 250 people), sunny weather, a DJ and sexy Boys -
What else do you need for a great afternoon on the Atlantic Ocean!

We took part at this (first) trip during the Pride week - with our photos we try to show you how great such a trip will be....

We went by bus from Playa del Ingles to Puerto Rico, where the catamaran waited and the trip took us along the coast of Gran Canaria to Mogan and back to Puerto Rico!

A DJ (Alex da Silva - Construction Bar) took care of the right sound, there was a delicious buffet and an "open bar"...

After 4 hours at sea a great trip ended....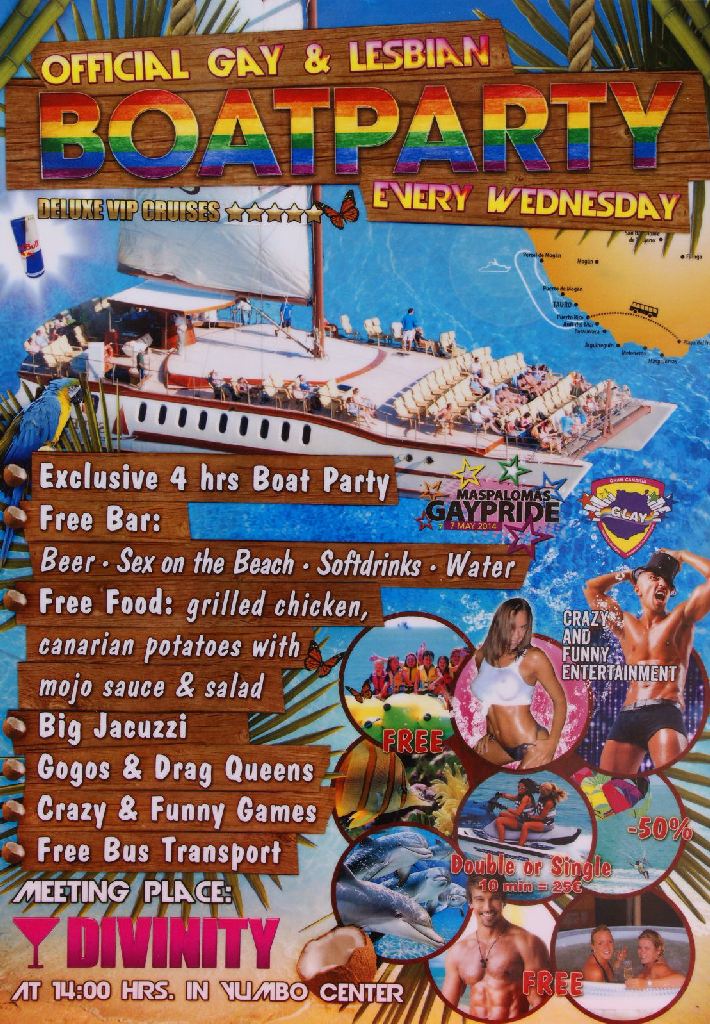 And now the good news:
Not only during Pride, but from now on every Wednesday this gay men only boat trip will be bookable...
More details will follow soon - also on the possibilities of booking....

But now we are celebrating Gay Pride in Gran Canaria and this was not the last trip on the Atlantic ...

If you like the photos and you now like to experience this yourself, just have a look to the Program - Tickets for the other boat trips are still available at the ticket office next to the main stage in the Yumbo Center!

It's worth - Book you day on the Atlantic Ocean!
Back