Supercat - Gay Men only Boat Party
The great gay men only Boat Party 2019 - A perfect day on the Atlantic Ocean...

Friday, 10th May 2019
Supercat -

The biggest Catamaran in Gran Canaria

...
Not only during Gay Pride week, but throughout the year: The Gay Boat Party!
Of course with an additional program and a men only boat trip during this Pride Week...

The rest of the year every Wednesday or Friday - Gay & Lesbian (mixed)...

And this year with the Supercat - The biggest catamaran in Gran Canaria, with whirlpool, chill-out area, large bar area and plenty of space,...

The Supercat was fully booked.
With 200 boys & men it started (after a short bus ride from Playa del Ingles) in the port of Puerto Rico (Gran Canaria) - It was a great afternoon on the Atlantic Ocean with lots of fun, sun,...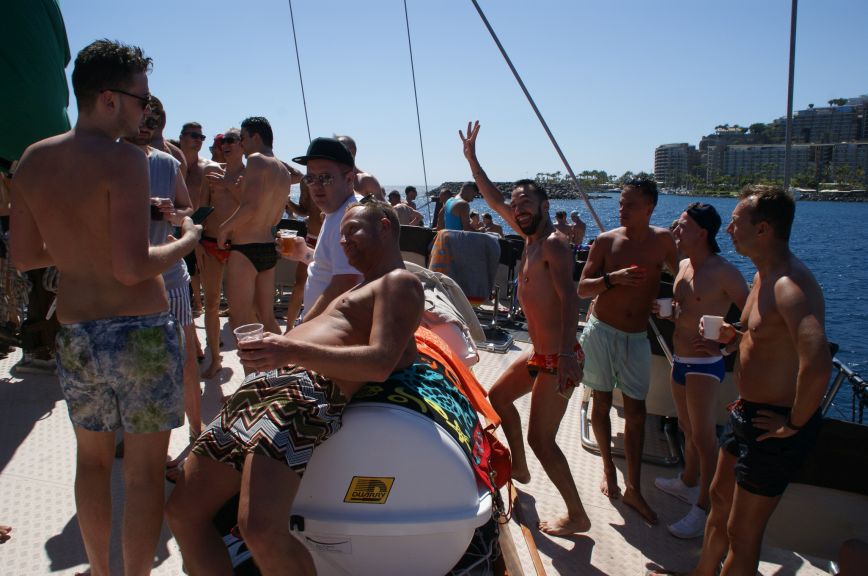 The weather?

It could not have been better - with a lot of sunshine and a bright blue sky it was a great party on the Atlantic Ocean and along the southern coast of Gran Canaria.

From the port (Puerto Rico - Gran Canaria) along the coast towards Puerto de Mogan - After a long stop (near the coast of Anfi) and plenty of time to swim and for banana boat riding (inclusive), the Pirate Boat came back to Puerto Rico.
A bus waited and at around 7:30 pm the party people were back in Playa del Ingles...

Sexy guys, a DJ, free alcoholic and non-alcoholic drinks, a meal on the ship and much more - it was just a great afternoon!
Gay&Lesbian Boat Party - Every Wednesday or Friday...
Really good value for money (50 €/person or 40 € person with the Gay Maspalomas Card), lots of fun, the Atlantic Ocean and the great coast of Gran Canaria...
Further Information and Tickets
...and here we have some photos of the men only day (10.05.2019)...
Back