Press Conference Gay Pride Gran Canaria 2011
An interesting and informative press conference for the Gay Pride Maspalomas 2011 -
Here we have the most important information for you...
Now it begins... - The Gay Pride Maspalomas 2011
Yes now it is noticeable, even for us, only a few days and the Gay Pride 2011 in Gran Canaria takes off.

For us it starts today with the official press conference at the IFA Catarina Hotel in Playa del Ingles.
(A second press conference was scheduled also for the evening in Las Palmas)

Led and guided by Fatima Yrayzoz (Press Representative Glay - Gay and Lesbian Association Yumbo)

Also Paul Barnes (President Glay), Roberto Moreno and Concepción Navarez (Tourism Gran Canaria) and the PR representative from Lopesan (hotel chain) joined the press conference.

All mentioned, that the gay tourism is very important for Gran Canaria and has a high value on the island!

Also some of the dancers for this year's Pride were presented: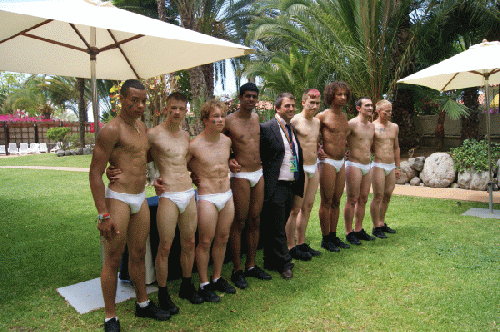 Interesting and Important:
The show on the main stage in C.C. Yumbo on Thursday 12th May 2011 is dedicated to ACES
(Amigos contra el sida (local HIV support) and also to Dario Jaen.

The founder of Glay recently died, without him and his commitment, the Gay Pride Maspalomas would not be, what it is today - A great and wonderful event

Furthermore, also the main sponsors were mentioned, without whom this event would not be possible:
Thanks for the many bars and restaurants in and around the Yumbo, Heineken, Coca Cola and Lopesan!

The bars and restaurant, which have sponsored the Gay Pride, are all marked with the
"Official Sponsor" banner. These bars should be supported by us all

Also Will Mota (Mister Gay 2010) and Janina Foronda (participant Operación Triunfo /comparable to the American Idol) joined the press conference.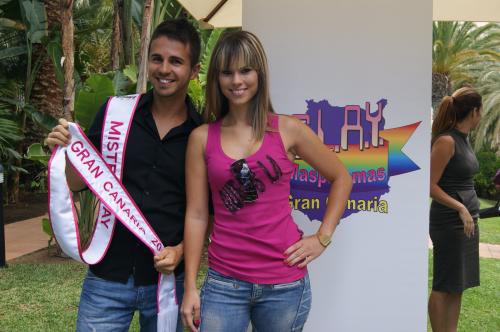 Both of them, you will also see on stage again in the C.C. Yumbo, Will will moderate one of the show's and Janina occur as a singer!

Now it could start - we cannot longer wait for the beginning - and if you will not be here, we will provide impressions and pictures after each event as soon as possible.
Back