Pinkt Night and Gala Deaf Drag Queens (Main Stage)
For the second time during Maspalomas Pride - A Drag Queen Gala for deaf people....
Tuesday, 20th May 2014
The Yumbo Center in Pink...
The traditional Pink Night on Tuesday during Gay Pride Maspalomas.
Also in 2014 there were many great costumes in and around the Yumbo Center - Pink was the dominant color of the evening...

The evening started (9:30pm) with the "drummers" of the samba band Batucada de Maspalomas, which entertained the "streets" in the Yumbo Center. They also opened the show on the main stage, along with the sexy dancers of the Essensual Dance Company...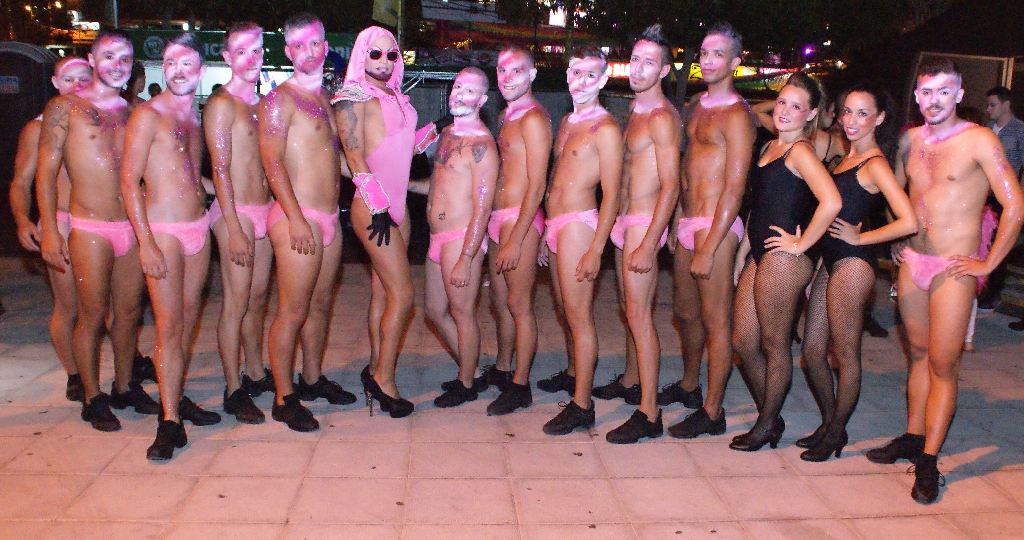 Gala Deaf Drag Queens 2014
Tonight the stage belonged to people with a hearing disability - Maspalomas Pride 2014 Deaf , for the second time!
In total 9 Drag Queens applied for the title "Drag Queen 2014 (Deaf)"...

A great mix of different nationalities on the main stage in the Yumbo Center - From Romania, Norway, Australia, Ireland, Sweden, Spain and also "Drag Conchita" from Austria. (This was definitely not Conchita as you know her...)

The Gala was hosted by Missee and Ladina and it was really a show of the Deaf Drag Queens despite a few show acts.
Winners Deaf Drag Queen Competition 2014
1st placed: Mikael from Sweden with the fantasy "Crazy Countryside"
2nd placed: Robert from Irland with the fantasy "White&Black"
3rd placed: Kevin from London withthe fantasy "All Women"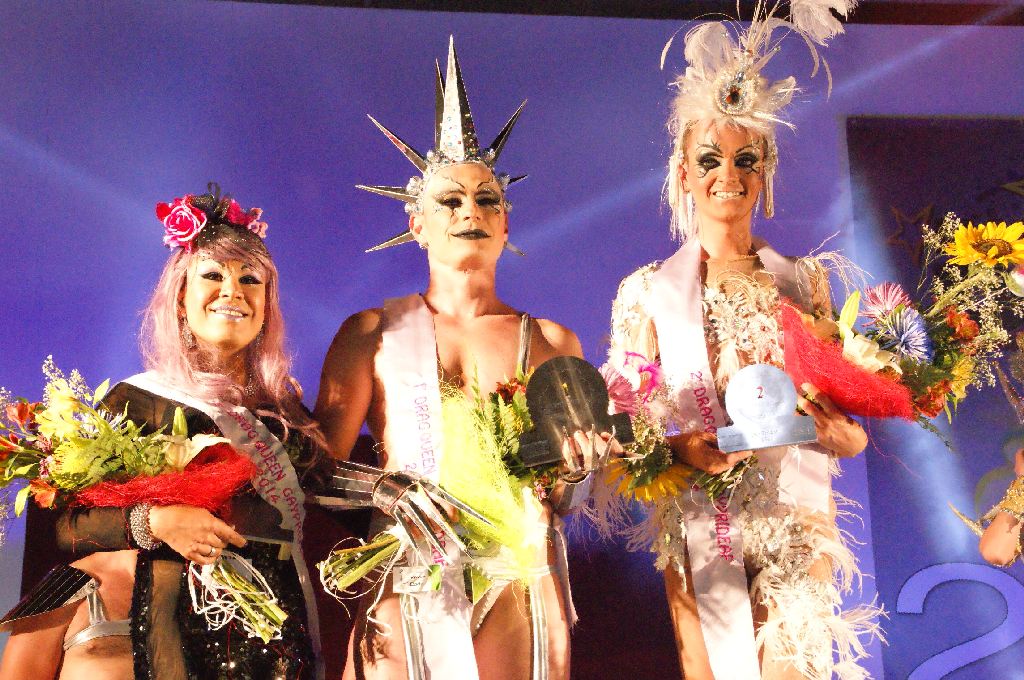 All nine participants showed, that they are fully integrated in Maspalomas Pride, they presented great performances and obviously had a lot of fun...
Mr. Gay and Miss Lesbian (Deaf) 2014
The Mr. Gay and Miss Lesbian (Deaf) 2014 competition will take place on Thursday, 22nd May 2014 (05pm) in the
Aptos. Las Walkirias (Playa del Ingles).

Tomorrow (Wednesday, 21.05.2014):

Starting at noon, the the great Men's Pool Party at Hotel AxelBeach Maspalomas with the pre-selection for Mr. Gay Gran Canaria 2014 (The final decision will take place on Friday during the Drag Queen Gala 2014) and from 09pm the Opening Gala on the main stage in the Yumbo Center!
Back