Opening Pool Party Los Almendros
...The Opening Pool Party 2017 at Los Almendros...
Monday, 06th November 2017
...

the opening 2017 in the pool area of Los Almendros



With the first pool party, the program of Maspalomas Winter Pride 2017 started ...
The beautiful pool area of Los Almendros with its large swimming pool and XXL whirlpool was quite crowded (about 200 people)...
Gay Bungalows Los Almendros - Infos&Booking

The weather in Playa del Ingles was just great - November - foggy and rainy? Not in Gran Canaria.
Great summer weather, perfect for a pool party.

Where else in Europe can you celebrate a perfect open-air pride in November?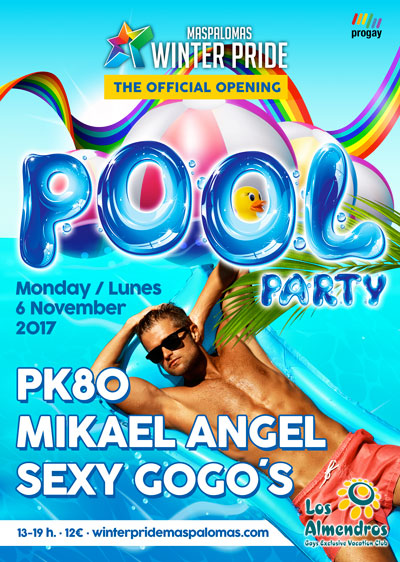 A DJ, GoGo's, the beautiful pool area of the Resort, everything was arranged...
It was a great opening pool party in 2017.
Of course, this wasn't the only one this year...
Wednesday at AxelBeach Maspalomas: Please Disturb Pool Party from noon!
... and in the evening the first big Live Show (from 8:30pm) on the main stage in the Yumbo Center...
Back