Opening Gala (Main Stage) 2017
Welcome Pride Gran Canaria 2017 - Opening Gala on the Main Stage...
Friday, 05th May 2017
The first Live Show on the main stage 2017 - Welcome Gala
With the Welcome Gala - the first Live Show on the main stage - The Maspalomas Pride 2017 started in the Yumbo Center.
On the first evening "only" a Video DJ session took place on the square in front of the main stage in the Yumbo Center.

Local artists made up the biggest part of the show - It was hosted by Isabell Torres and Fruela.
A Canarian men's choir, Rubén Dizá, José Saavedra.

As said Spanish and local artists.

There was no greeting from the organizers or from the "Officials" (town hall Maspaloams) during the Opening Gala.
The Yumbo Center was quite well filled - the Main Stage is nicely designed this year...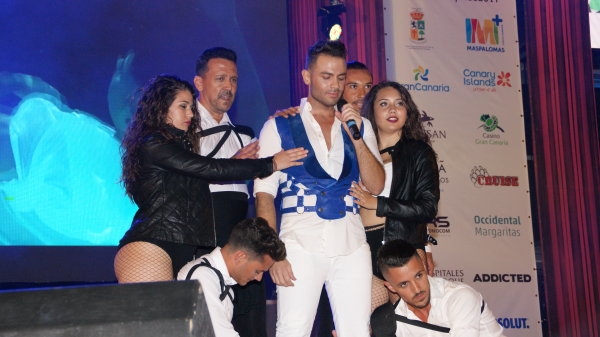 This was the opening show and certainly, there will be some great shows in the Yumbo Center during the entire upcoming week. Some intern. known artists are definitely announced in the program.

And this is on during the next two days: Saturday and Sunday (06. - 07.05.2017):
Saturday from 1 pm: Welcome Pool Party
Saturday from 10pm: Grand Tribute Night (Yumbo Center Main Stage)
Sunday from 1 pm: Wet & Hairy Pool Party (AxelBeach Maspalomas)
Sunday from 10pm: Party Guapo be Yourself (Yumbo Center Main Stage)

...and now have fun with the first photos in 2017...
Back