Opening Gala (Main Stage) 2014
The first great show on the main stage in 2014 - The Opening Gala of Gay Pride...
Wednesday, 21st May 2014
The first show on the main stage in 2014 - Welcome Pride 2014
A small (opening-) fireworks at the end of the Welcome Gala - This gives us hope, that there will be again the great final fireworks after several years without them!

A nice and entertaining opening show on the main stage, with some really good performances -
the Yumbo center was really crowded.

Due to "official" informations there were more than 4,000 people, who celebrated this Opening Gala in the Yumbo Center...
And this was only the first show...

The show was hosted by Ladina (President GLAY) Gay&Lesbian Association Yumbo and by Fidel
(Chez Funny Boys Yumbo Center).

Also the show on the stage was opened by Ladina and with the Essensual Dance Company you had many sexy moments during this Welcome Gala...

The opening speech was held in four languages ​​(German, English, Spanish and French):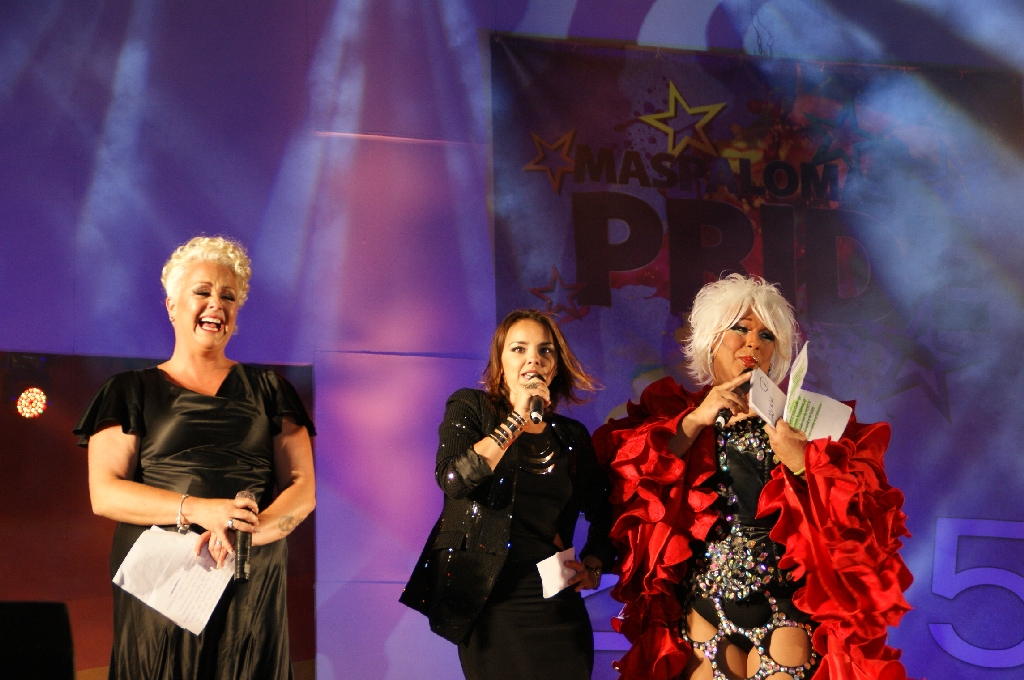 They thanked all who made it possible, that you can enjoy Pride 2014 again - The sponsors, the Ayuntamiento (Town Hall) de San Bartolomé de Tirajana and the many, many hard-working volunteers.

Also they remembered all, how lucky we are to be able to celebrate this event without persecution by homophobic laws and discrimination!

At this point it should also be mentioned that there are many cultural events during Pride week - Workshops and discussions for local children and young people, who should be confronted with the issue of EQUALITY and tolerance...
(Details on these events will follow as well...)

The Opening Gala 2014 - A colorful show with performances from Terry's Show (one of the oldest show bars in the Yumbo) Gossip Show Bar, Chez Funny Boys and well-known artists from Spain!

On Thursday (22.05.2014) there is a really full program:
1pm - 6pm: Blue Adult Comedy Drag Show (AxelBeach Maspalomas)
1pm - 8pm: Wet&White at Amadores Beach Club
The Mr Gay and Mis Lesbian (Deaf) competition at Las Walkirias
"Que Trabaje Rita" at Hotel AxelBeach Maspalomas
and from 9pm: Yumbo Center Main Stage: Gala for ACES with the finals of Mr. Gay Gran Canaria 2014

A great Thursday is waiting, with many highlights....

...and now have fun with the photos...
Back