Miss Beautiful Gay 2014 (Main Stage)
Men transforming into stunning women -
Beauty Queens on the main stage in the C.C. Yumbo...
Saturday, 24th May 2014
The Miss Beautiful Gay 2014 Competition
For the second time during Gay Pride in Gran Canaria the titel Miss Beautiful Gay was awarded.
No Drag Queens, but Beauty Queens on the main stage in the Yumbo Center -

Men transform into stunning women...

After the big parade and the DJ session in the Yumbo Center, the show started 9:30pm - In addition to the Beauty Queens, the show offered some good performances...

The Viaduct Showgirls (Viaduct Show Bar Leeds - UK), followed by Angela Norris as Kylie and Nikki French...

The show was hosted by Lady Penelope (English), Ladina (German) and Roberto (Spanish).
Miss Beautiful Gran Canaria in 2014
Nine men transformed into stunning women and competed for the title of Miss Beautiful 2014...

It was very interesting to see the the "real" photos of the participants on the screens beside the stage and compare them to the live result on stage - Stylists, hairdressers and designers can really do a lot...

First the "Misses" presented themselves in swimmwear and finally in stunning dresses...
Miss Beautiful Gran Canaria 2014 and winner of the prize of 500 €...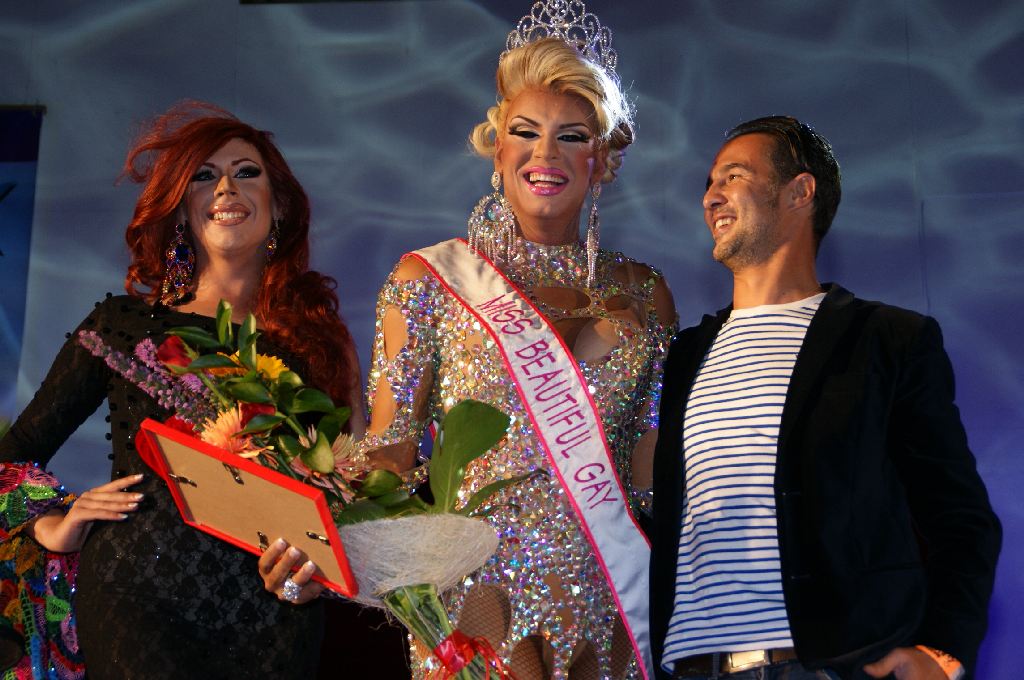 ...and second and third placed

This was finally the last competition and the last election during the Gay Pride 2014 and all titles were awarded...

Sunday (25.05.2014): Starting at 9:30pm the big Final Gala Show - "The International Show" on the main stage in the Yumbo Center - The "Closing Show" of Pride 2014...
Back