Los Almendros - Mr. Los Almendros 2011
Pool Party in the Bungalows Los Almendros, with Mr. Los Almendros competition...
Thursday, 12th May 2011
Pool Party in Los Almendros with the Mr. Los Almendros 2011 competition
Although the weather in the morning was a bit cloudy, with the beginning of the Pool Party at 2pm, the sun started to shine from a blue sky!

Like every year during the Gay Pride week, the Mr. Los Almendros competition
took place in the Gay Bungalows Los Almendros!

A nice party in the great pool area of Los Almendros, a DJ for the good music and the Bar Amigos, with its friendly and sexy staff - what do you need more?

In total 9 participants fought for the title Mr. Los Almendros 2011!
Great prizes were waiting for the winners:
Prizes for place 1-3
1st Place: week holiday in Los Almendros for up to 3 people
2nd Place: 50 € Voucher for the Bar Amigos in Los Almendros
3rd Place: 25 € Voucher for the Bar Amigos in Los Almendros

The jury (4 expert judges), who found the final decision very difficult...

Therefore, there was also little prize for the 4th and 5th placed. A bottle of champagne
(sponsored as well by Los Almendros) and finally the jury could make their decision!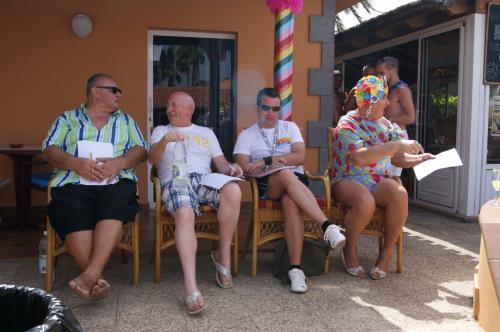 The competition was hosted by the charming Miss Billie!
Participants in the Mr. Los Almendros 2011 competition
Nathan from London
Chris from Sweden
Ryan from Scotland
Trevor from England
Nico from Belgium
Alessio from Italy
Rafa from Spain
Frederik from France
Marcel from Belgium

International canidates and they all gave their best - jumping into the pool, deep insights and attempted bribery
of the jury :-)...

... after a long deliberation, a fair placement was decided!
Mr. Los Almendros 2011 and winner of the one week stay at Los Almendros - Trevor from England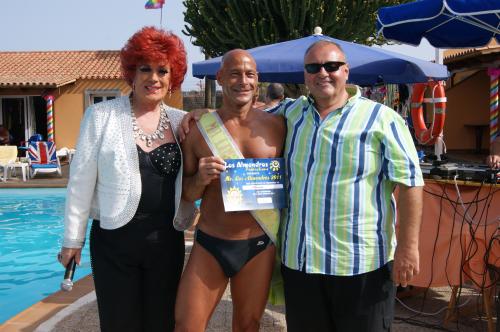 On the 2nd Place - Chris from Sweden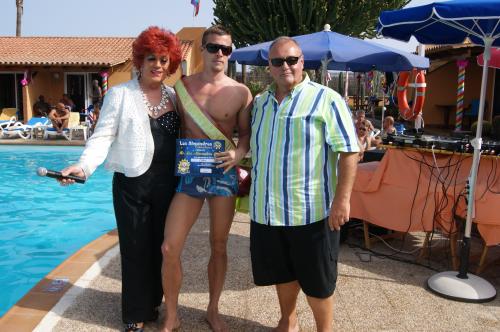 ...and the 3rd placed - Frederick from France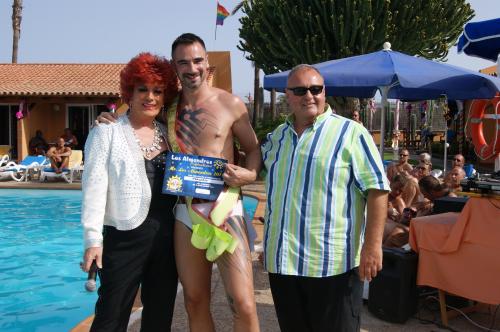 The two winners of the bottle of sparkling wine: Marcel and Ryan
(2nd placed at the Mr. Gay Gran Canaria 2011 competition yesterday.)

A nice party, with great prizes sponsored by Bungalows Los Almendros!
Another event will be take place there tomorrow, Friday - Garden- and Poolparty starting at 2pm!
Back