Las Walkirias - Men's Pool Party 2013
Every year a great event! The Men's Pool Party with Mr. Gay Gran Canaria 2013 competition...
Wednesday, 08th May 2013
The biggest Pool Party during the Gay Pride -
Mr. Gay Gran Canaria 2013 competition
Again an awesome pool party - the Men's Pool Party in Las Walkirias.
Just in time for this party, it was really hot in Gran Canaria (not just the weather), today it was bright sunshine with 35° C - so just perfect weather.

And it was full, fuller, really full at the pool in Las Walkirias, the atmosphere was great and the people had a great party...
A DJ, trendy music, live performances and many sexy boys - the Men's Pool Party is simply the best during the Gay Pride....

Mr. Gay Gran Canaria 2013
Of course, this Pool Party included the Mr. Gay Gran Canaria 2013 competition.
Charmingly presented by Missee and with great prizes for the winners - The competition had 18 contestants.

A little innovation this year: The jury announced a Top 5 first, who presented themselves again and finally the winner was elected!

Top 5 Mr. Gay Gran Canaria 2013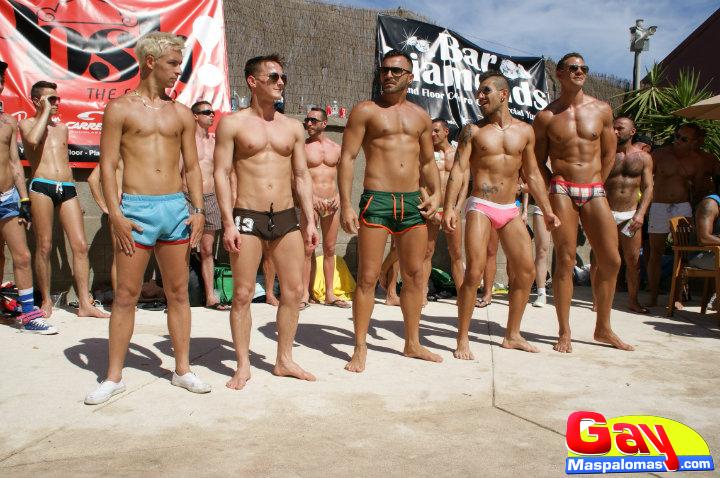 Mr. Gay Gran Canaria 2013 - Ashley Rogers (27 years old from UK)
(Prize: 500 € and a shopping voucher for Posh! The Fashion Hub)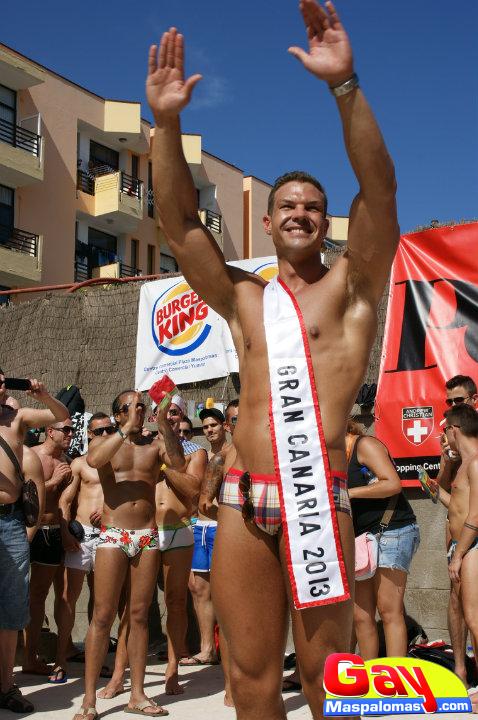 The 2nd and 3rd placed - Villy (25 years old from Bulgaria) and Dennis (24 years old from Italy)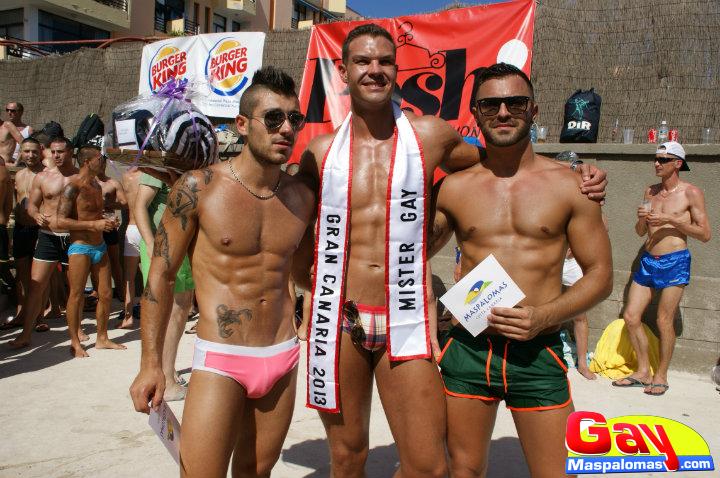 Thanks also to the sponsors of this event - Bar Diamonds (C.C. Yumbo) 500 €, Posh - The Fashion hub and
Perfumery Europe!

We are sure this Pool Party will continue till late today....

Tonight (Wednesday) Charity Night (09 pm): The Power of Love - Show for ACES on the stage in the Yumbo Center! (Amigos contra el Sida - local HIV support)

Now have fun with the pictures of the Men's Pool Party 2013....
Back