Las Walkirias - Lesbian Pool Party 2011
Pool Party with the Miss Lesbian Gran Canaria 2011 competition...
Sunday, 08th May 2011
Lesbian Pool Party with the Miss Lesbian Gran Canaria 2011 competition
The afternoon in Las Walkirias in Playa del Ingles - sexy Girl's, party and fun.
We joined this official Pride program so that we can show you photos and impressions here.

Jo Francis (on the main stage on Saturday, 15th May 2011) and Janina Foronda
(on the main stage on Friday, 14th May 2011), created a great party atmosphere at Las Walkirias.

A raffle with great prizes to benefit the Breast Cancer Foundation also took place.

Great prices, in addition to the donation, such as a one week cruise, 1 week holiday in Gran Canaria or in France, and many more prizes were waiting to be won!
Miss Lesbian Gran Canaria 2011 competition
12 young ladies presented themselves to the jury and all fought for the title Miss Lesbian Gran Canaria 2011.

A first prize of 300 € and great prices for the 2nd and 3rd sponsored by Perfumery Sabina waited on the winners.

After intensive consultations, the jury announced the result:
1st Place Julia Saavedra Almeida
2nd Place Marta Suárez
3rd Place Laura Griffiths


Miss Lesbian Gran Canaria 2011 and winner of the 300 € - Julia Saavedra Almeida 21 years old from Las Palmas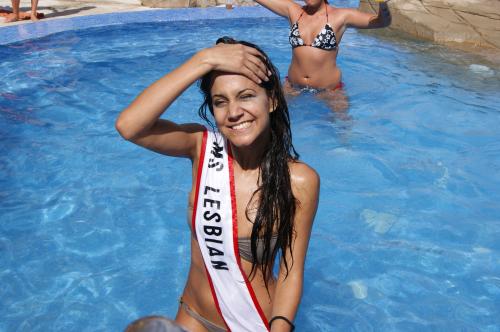 The 2nd place goes to - Marta Suárez 24 years old from Las Palmas



And on the 3rd place - Laura Griffiths from England (sorry, no photo, since she missed the ceremony)

A great pool party with great music and fun, that continues till 7pm.

We prepare ourselves now for the 2nd show on the main stage - Retrospective Part II.

And do not miss: Wednesday 11th May 2011 Gay Pool Party at the Hotel Las Walkirias with the
Mr Gay Gran Canaria 2011 competition.
(1pm till 7pm; Admission: 10 €)
Back