Drag Queen Gala 20113 (Main Stage)
The fourth show of the Gay Pride Gran Canaria 2011...
Friday, 13th May 2011
Great show with the Drag Queen Gran Canaria 2011 competition
A big show on Friday during the Gay Pride Gran Canaria 2011.

Just in time, with a half hour delay, the 4th Show on the main stage in C.C. Yumbo started at 9:30pm - The big Drag Queen Gala!

A four-hour lasting program, with many musical interludes between the individual performances of the Drag Queens.

In total twelve Drag Queens performed on the stage!
Futuristic, funky and sometimes strange (but this is a subjective opinion!).

Hosted by Will Mota (Mr. Gay Gran Canaria 2010) and Isabel Torres.

The show started with a Beatboxing Performance, followed by performances from Sparkless Showbar and Ricky's Cabaret Bar and Valentino King, who rocked the stage with his Hits Sex on Fire and Summer of 69 !

The whole show was mixed between the performances of the individual Drag Queens and various
singers and artists.
Participants in the Drag Queen competition:
Drag Kioba - Boney M. with the Teletubbies
Drag Aeigi
Drag Seychells - with the dance on a piano
Miss OTB - One Tall Bitch
Drag Dangerous - not too dangerous
Drag Amidawe
Drag Canaea - the Leather Drag
Miss Dizzy Fierce
Drag Oreon
Drag Tunte
Drag Gio
Drag Vulcano - also hot as a volcano, the pyrotechnics also surprised some photographers

The shows of the various Drag Queens were totally different, from breathtaking and wow to strange! (But as I said, this is a subjective opinion!)

All 12 Drag Queens certainly did their best and fought for money and gifts from Perfumery Sabina!

And that's how the jury decided...
Drag Queen Gran Canaria 2011 and winner of 1000 € - Drag Vulcano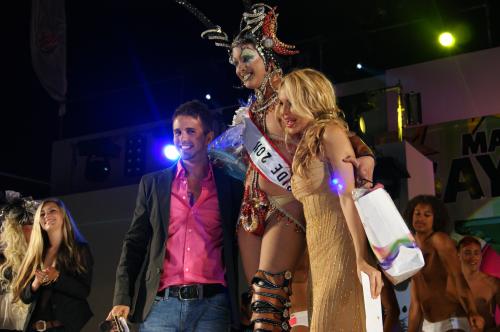 On the 2nd Place and winner of 750 € - Drag Oreon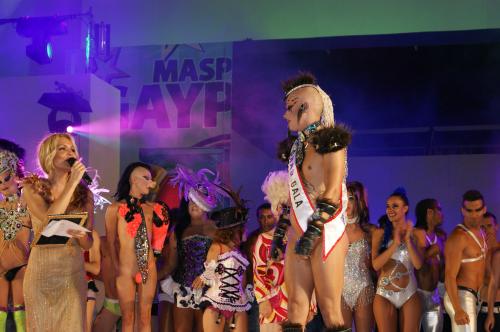 ....and last but not least on the 3rd place and winner of 500 € - Drag Gio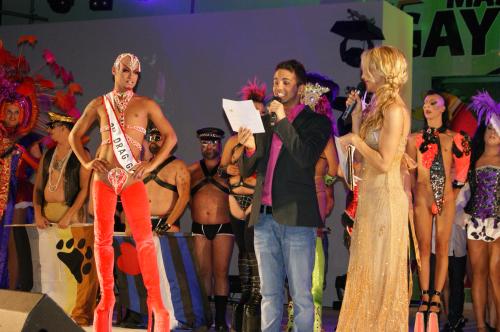 A highlight was the show of Janina Foronda - A sexy show, with great songs and with
her fantastic voice. The people had really good fun.

As already mentioned, this show took a long time, perhaps a bit too long.
But again a successful show and the perfomance of the Esensual Dancers to the song Relax -Very sexy :-)

In our opinion, the victory ceremonies of the Drag Queens was too short, as it was their Gala Show in the end!

Well, another show will be on the main stage during the Gay Pride Maspalomas 2011 - Saturday starting at 9:00pm, the big final Gala with fireworks!

And of course, the great Parade of the Gay Pride, on Saturday starting at 3:00pm.
The start will be, as always, at the Riu Palace Hotel!
Back