The Final Gala Show (Main Stage)
The final show on the main stage 2015 - Main International Show...
Sunday, 17th May 2015

Incl. dates for the Maspalomas Gay Pride 2016!
Main International Show - Closing Show in the Yumbo Center
With the last show on the main stage in the Yumbo Center on Sunday, 17th May 2015 the14th edition of Pride Gran Canaria came to its end...
The last day started with a "Closing Foam&Pool Party", again at Hotel AxelBeach Maspalomas and from 7pm with a DJ session in the Yumbo Center.

This was moving into the last show on the main stage - Opened by performances of the Esensual Dance Company and hosted by Chelsea (Ricky's Showbar) and Fidel (Chez Funny Boys)...

With this closing gala the Pride week 2015 ended - But, and this should also be mentioned, there were better and bigger finals show's, comparing this one to past years.

A special highlight, an internationally known artist - Not in 2015 - Or we missed it...

However, the Yumbo Center was again very well filled (despite the great departure wave on Sunday) and there were also good moments and performances in this Gala (Esensual Dancers, Eva la Diva)...

At the beginning the acting President of GLAY pointed out the special thanks and announced the dates for the Pride Gran Canaria 2016 - Of particular note is the fact that the end of this Pride week was on the same day as the international day against homophobia and transphobia.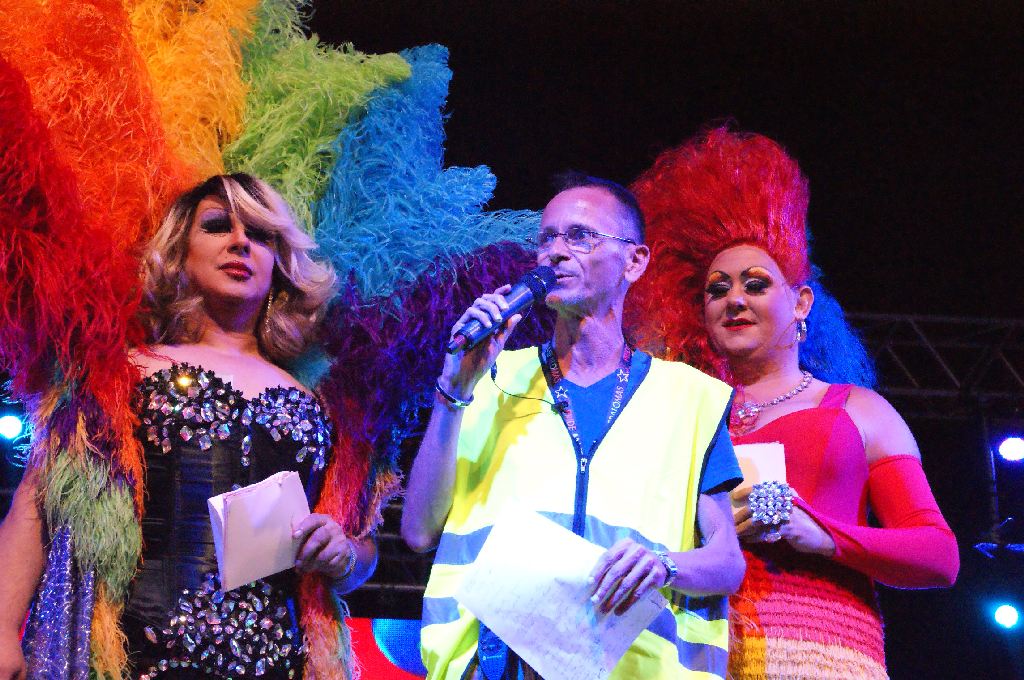 André van Wanrooij - acting president of GLAY

The thanks of GLAY were addressed to all, who made this event possible...
It should also be noted that this event causes high costs and can only be achieved through the numerous donations and sponsors
Thanks for this Gay Pride...
All organizers and volunteers, to the sponsors, to the Ayuntamiento de San Bartolome de Tirajana (Town Hall) and the mayor, to all photographers and media representatives, to the Dancers of the Essensual Dance Company, all artists and in general to all people, without whom this great Pride would never have been possible!

...and of course, thanks to all who came to Gran Canaria to celebrate this Pride and certainly had an awesome week!

Also the team of Gay Maspalomas want to say "THANK YOU" - This was once again a great but also stressful Pride Week, with lots of great events and days.

And our special thanks also to the Team of GLAY who have prepared this event for months, at their leisure and in addition to the work and everyday life - THANKS!! GLAY = Gay&Lesbian Association Yumbo

Now this closes the Gay Pride Week 2015 - We hope we were able to provide some interesting photos and impressions, even if you could not be part of it yourself...

Shortly, we will also post a Best of Pride Maspalomas 2015 - just with many great photos of 2015 ...
Winter Pride Maspalomas 2015
...But 2015 is far from over... The second edition of the Winter Pride Maspalomas will follow...

Winter Pride Maspalomas: 09th - 15th November 2015
Gay Pride Maspalomas 2016
...and after this Pride is as always before the next big Pride...
2016 Gay Pride in Gran Canaria is celebrating its 15th Birthday - So the next Pride will be extended to 15 days...

Gay Pride Maspalomas: 01st - 15th May 2016

From 01st - 06th May 2016: Cultural Pride*
From 06th - 15th May 2016: Pride Fiesta**

* Cultural Pride Week with exhibitions, debates, discussions,...
** The usual big Pride party in and around the Yumbo Center...

Here we go - Some photos of the last show in 2015...
Back