The Final Gala Show 2014 (Main Stage)
The last show on the main stage in 2014 - THE highlight of this evening: Cascada...
Sunday, 25th May 2014

Maspalomas Gay Pride 2015: 08th - 17th May 2015
The International Show
A great, perfect and successful Pride week -
With the large Final Gala Show and fireworks the Gay Pride 2014 was coming to its end...

Due to "official" informations there were more than 150,000 people in 2014, coming to Gran Canaria to celebrate this Pride!

On time, at 9:30pm this last show on the main stage in 2014 started -
A worthy conclusion - The International Show

The show was hosted by Ladina (President GLAY) and Chelsea and offered a lot of highlights -
THE highlight of the evening "Cascada" (Germany)...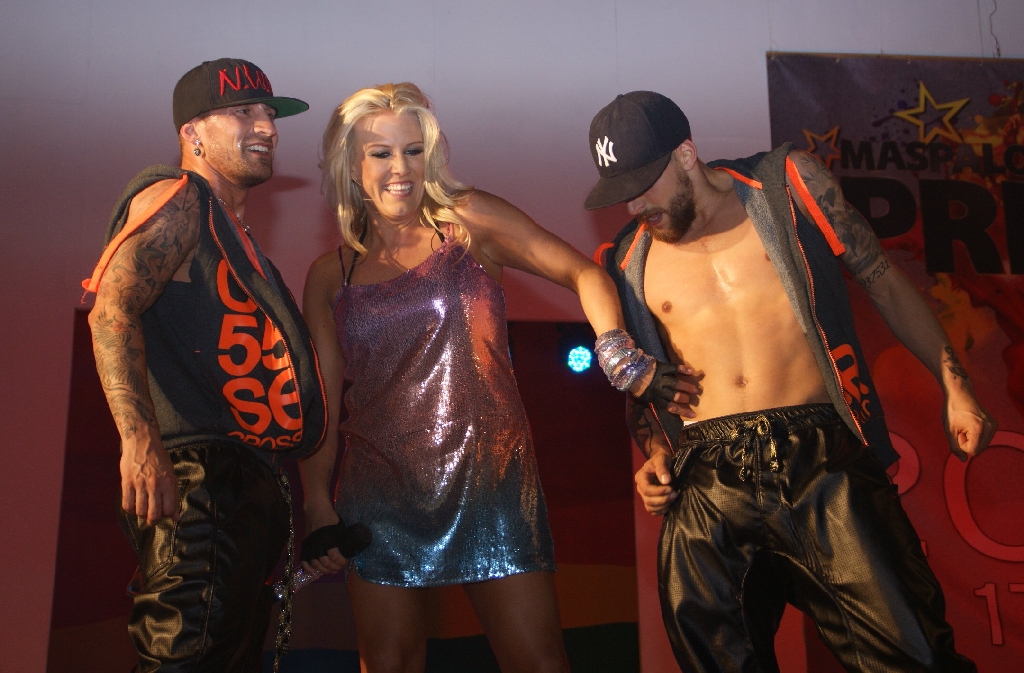 The square in front of the main stage was once again crowded and the audience celebrated from the beginning -
Antixx, a Pink Tribute, Zoe and Sam Callahan only to mention a few of the great performances and as "Cascada" performed on the stage, the audience was nearly unstoppable!

...as far as we can remember, it was nearly for the first time, that the audience did not stop shouting "One more song..." in front of the main stage

A show which worthy ended this Pride!

At this point, we also need to mention, that this event naturally incurs high costs which can only be covered by numerous donations and sponsors - The Pride 2014 caused costs of around 250,000 € - This only to show the dimensions...
Thanks for this Gay Pride...
Of course this was also the moment to say Thank you - Ladina and the whole GLAY (Gay and Lesbian Association Yumbo) sended a very big thank you to:

All organizers and volunteers, to the sponsors, to the Ayuntamiento de San Bartolome de Tirajana (Town Hall), to all photographers and media representatives, to the Dancers of the Essensual Dance Company, all artists and in general to all people, without whom this great Pride would never have been possible!

...and of course, thanks to all who came to Gran Canaria to celebrate this Pride and certainly had an awesome week!

Also the team of Gay Maspalomas want to say "THANK YOU" - We had a great, but also busy week and do not want to miss a single day of Maspalomas Pride 2014!

Our special thanks goes to Ladina and "her" GLAY team who have prepared this event for months - during their at leisure time and in addition to their work and everyday life!

THANK YOU

As said before, the team of Gay Maspalomas had a great week -
This is now the last report about the events of the Gay Pride 2014!

Once we have recovered somewhat, we will post a "Best of" Maspalomas Pride 2014, of course...

With the best photos and impressions and all you need to look back at this fantastic event!
Maspalomas Pride 2015
...and after Pride is before Pride and there are less than 365 days to wait....

Gay Pride Gran Canaria - 08th - 17th May 2015...
Back