Charity Gala (Main Stage)
The charity night for ACES -
Mr. Gay Gran Canaria 2014 competition...
Thursday, 22nd May 2014
The Charity Show for ACES - Finals Mr Gay Gran Canaria 2014 Competition
ACES - Amigos contra el Sida is the local HIV charity in Gran Canaria.
The Gala on the main stage during the Gay Pride - a charity show to raise funds and money for ACES.

"Buy a candle to support ACES" -
With many candles, we all can help and support ACES to be able to provide their valuable work and help!
ACES - Amigos contra el Sida
Background and Facts:

Every year there are around 200 new infections with the virus in the Canary Islands.

In the current year 2014, ACES have already registered 174 new cases - 93.7% of new cases are due to an infection through sexual acts!
ACES is also engaged much in terms of prevention and education, with lectures and with providing free condoms in the Yumbo Center...

The Charity Night -
A very important evening for ACES, which helps to make people aware of the organization and to collect donations!
Only with your donations, ACES can continue to offer their help!

It is also important to mention, that is that all artists performed without a fee and so supported the fundraising.

A show on the main stage, which started a bit slow.

This changed towards the end when Angela Norris as "Blondie" and Justine Pelmelay performed,
which helped to wake up the audience.

However, this was again a big show on the main stage in the Yumbo Centre -
A special thanks also to Ladina (President of GLAY), who hosted this evening almost alone and in three different languages (German, English and Spanish).

With many of ​​candles and lights in the audience and Ladinas "Hallelujah", the Charity Gala 2014 came to an end...
Mr. Gay Gran Canaria 2014 competition
New in 2014 - During the Men's Pool Party, there was only a (pre-) selection for the Mr. Gay Gran Canaria 2014 comeptition!

Seven finalists (three of the ten finalists were missing) presented themselves again on the stage -
The jury thus had the opportunity to decide on the final winner...

And the winner is .....
First placed thus Mr. Gay Gran Canaria 2014 - Villy (Bulgaria/Gran Canaria)
(250 € and swimwear from Posh! The Fashion Hub, as well as a gift bag from perfumery Europa)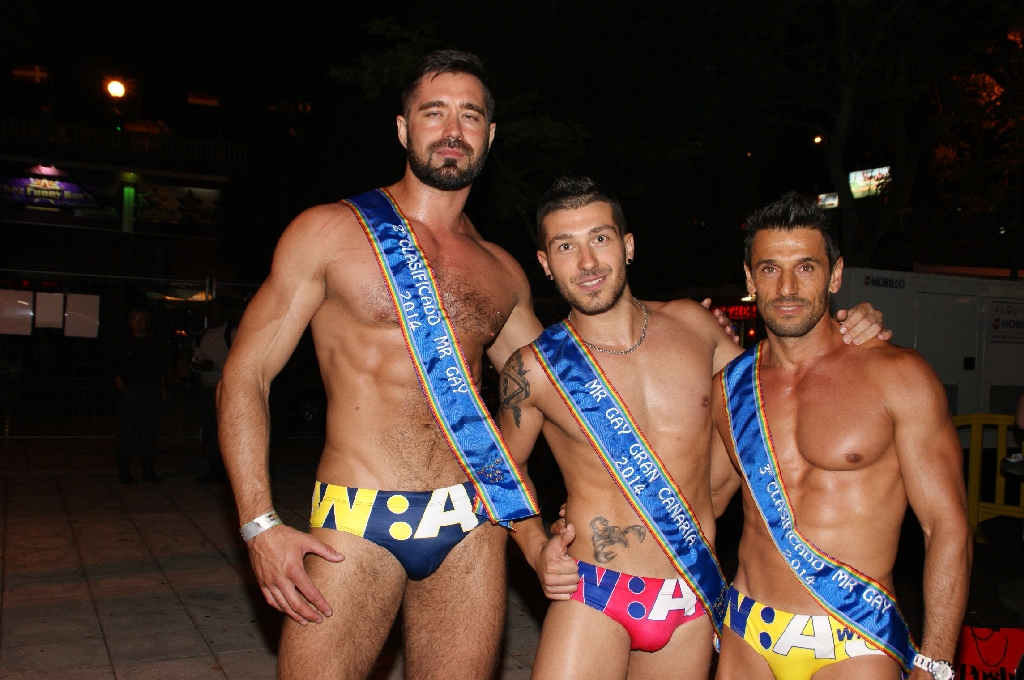 Second and third palced: - Simon (Poland) and Aric (Cyprus)

Many thanks also to the sponsors of this contest - Posh! - The Fashion Hub, the Gay Embassy and the perfumery Europa!

Of course the program 2014 is not yet over - Highlights on Friday, 23.05.2014:
1pm - 6pm: Lesbian Pool Party (AxelBeach Maspalomas)
1pm - 8pm: T-Dance at Aqua Ocean Club Meloneras
from 9:30pm: Drag Gala Show on the main stage
Back