Bungalows Los Almendros Pink Pool Party
...The traditional Pink Day at Los Almendros...
Monday, 08th May 2017
...in the beautiful pool area of Los Almendros
On today's Pink Monday also a pool party took place at Los Almendros - Gays Exclusive Vacation Club.

Unfortunately, the weather (and this is so unusual for the South of Gran Canaria) was not good at all.
Actually the pool party fell into the water...

At about 3pm, a thunderstorm with heavy rain, sweeps across Playa del Ingles...

Too bad, it was (apart from that) a nice pool party and also well-attended - a DJ, GoGo's, the beautiful pool area of the Resort, everything was arranged...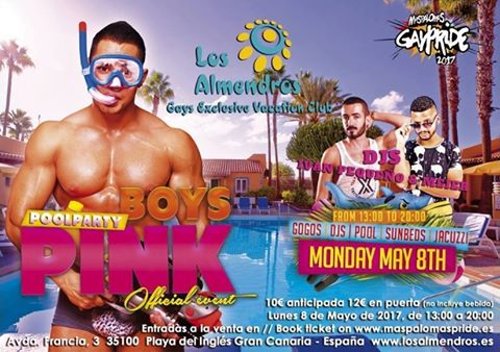 The Pink Monday...
In the evening at the Yumbo Center: Pink Night from 10pm...

Do not miss:

On Tuesday from 1pm the great Men's Pool Party at AxelBeach Maspalomas and alos at Los Almendros will be another Pool Party this week.
Pool Party Los Almendros
Thursday, 11th May 2017, from 1pm to 7pm
Free entry...

Of course, with the Mr. Los Almendros 2017 competition, with great prices and lots of fun...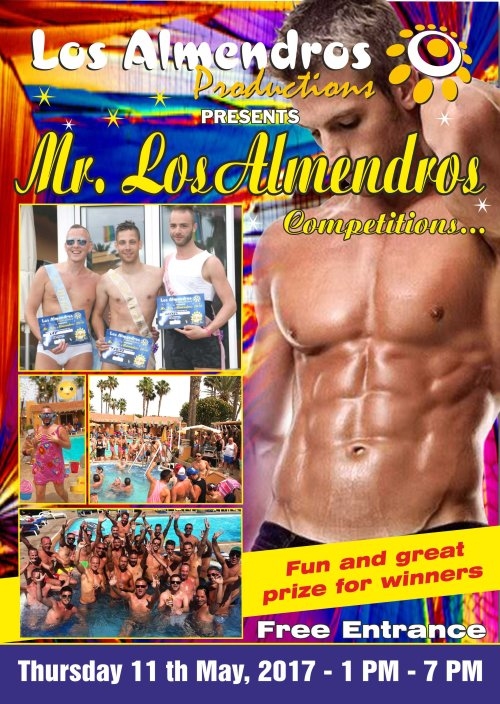 For more information around the Resort or booking just click here: Gay Bungalows Los Almendros

Unfortunately not many photos of the event - Then the thunderstorm came...
Back