AxelBeach Maspalomas - Men's Pool Party 2015
Also in 2015 a great event!
The Mens Pool Party with the (pre-) selection of Mr. Gay Gran Canaria 2015...
Wednesday, 13th May 2015
The biggest Pool Party during Gay Pride -
(Pre-)selection for Mr. Gay Gran Canaria 2015
The Men's Pool Party - as every year on Wednesday during the Pride week and this year again at
Hotel AxelBeach Maspalomas.

One thing was new this year, it was just hot.
The announced heatwave has fully slammed and the temperatures raised to over 40°C.

But the shorter were the speedos and there is also a large pool at AxelBeach Maspalomas...

Like last year, there was only the preselection for Mr. Gay Gran Canaria 2015 - the final decision will be tomorrow
(Thursday, 14.05.2015) on the main stage during the ACES Gala.

In total, 15 participants competed for the title Mr. Gay Granaria 2015!

And since there were not many competitors this year, all 15 Finalists will be on the stage again on Thursday night...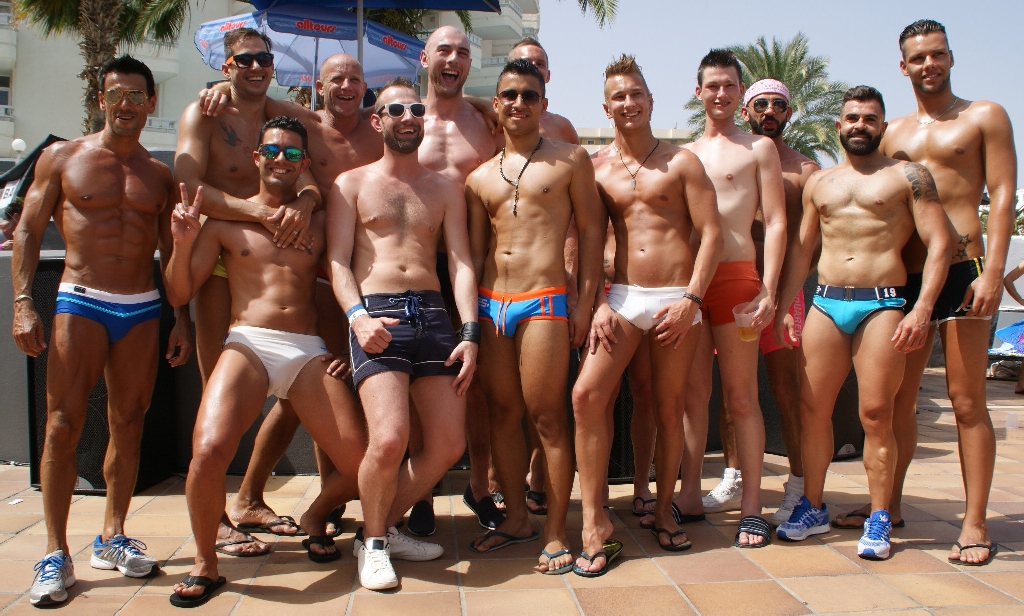 Hosted again by Missee... A DJ, music, live performances and many sexy Boys, the Men's Pool Party is simply the most popular one during Gay Pride...

The participants came from many different countries, from Spain and Gran Canaria, Germany, Holland, the UK, Venezuela, Poland, Cyprus and Turkey.

This will definitely be a difficult decision for the jury also in 2015. ...
But we will see tomorrow who will be the new Mr. Gay Gran Canaria...

Tonight (Wednesday) from 9pm Gay Pride is searching for new talents - "Pride has Talent"...
...Or not...

On Thursday the next Top Event will take place:

Wet&White at Amadores Beach Club. (starting at 1pm)
This event took place for the first time 2014 and it was a big, big success...

Now have fun with the photos of the Men's Pool Party 2015....
Back